Recently, reduced-lignin alfalfa has been a hot topic in forage discussions. Producers want to know the benefits, the different management considerations and how this new forage fits into the overall ration.
Reduced-lignin alfalfa, especially when fed alongside a low-lignin corn silage, provides greater flexibility and better digestibility, leading to operational efficiencies and better profitability.
Andy Merry of Lismore Dairy LLC in Arkport, New York, milks about 1,900 cows and is planting reduced-lignin alfalfa during the 2017 growing season; it will be his fourth year planting it.
Merry worked with his nutritionist to ensure a smooth transition and build an on-farm ration and feeding plan for the reduced-lignin alfalfa in combination with his current low-lignin corn silage.
"Our goal is to simplify our ration to using primarily corn silage and haylage without losing forage quality or yield," Merry says. "Using a reduced-lignin alfalfa has pushed us closer to reaching that goal."
In Merry's area, land is at a premium, and everything they grow turns around to feed their herd. "On the acres we do have, we can't have a limit on yield and the quality forage that we feed our cows," Merry says. The reduced-lignin alfalfa is very vigorous in regrowth, shows fast returns after a cutting and doesn't need additional care in harvest processing to get the high quality they desire, he adds.
Here are a few benefits Merry and others have experienced when using reduced-lignin alfalfa.
Management flexibility
Reduced-lignin alfalfa has a much larger harvest window, so producers have more flexibility with alfalfa harvest during what is always a busy time in the fields and the farm. Often, producers may even be able to reduce a cutting without losing yield, which means less time in the field, less labor and less fuel. Merry finds that flexibility especially beneficial.
"We have little predictability in weather patterns in our area, so having more flexibility with harvest and the option to reduce a cutting is huge for our on-farm operations," he says. Through harvest, producers also are finding an additional benefit to the smaller stalk having greater leaf retention. This has prevented additional losses during baler processing and feeding.
Greater digestibility
Reduced-lignin alfalfa can have up to 7 to 10 percent less lignin than other alfalfa options. That means greater digestibility of the plant material. Increased digestibility means cows will increase dry matter intake, just like with low-lignin corn silage. This alfalfa combined with a low-lignin corn silage allows producers to build a highly digestible forage ration that can help increase milk production and boost profitability.
Increased profitability
Improving income over feed cost – making more income while reducing feed costs – is important for any dairy operation. Reduced-lignin alfalfa can help boost income over feed cost as a result of several factors, including better digestibility and dry matter intake, better yield in the field and reduced operational costs – and less wear and tear on equipment – as a result of fewer cuttings.
All of these factors can add up to more milk with fewer cost inputs.
"We have found for the additional investment of 5 to 7 dollars per ton of alfalfa, we are seeing more points in our neutral detergent fiber digestibility," Merry says, "and that makes it worth it."
New considerations for a new ration
If you plan to incorporate a reduced-lignin alfalfa into your farm's ration, take into account the amount of effective fiber available in the ration, especially if you already feed a low-lignin corn silage like BMR. Make sure there is adequate fiber in the diet to optimize feed efficiencies and rumen health.
Monitor your cows' milk production and herd health – such as manure consistency, milkfat and protein, and milk urea nitrogen – to make certain the diet is balanced appropriately. You know your cows best. Let them help tell you how they are adjusting to a new diet.
Work with your nutritionist and your forage testing lab to analyze forage samples. Send in samples throughout the year to keep an eye on all the different components in your ration to stay balanced. Work with your nutritionist for a recommendation and a balanced ration while making the most of these additional fiber opportunities.
In addition to nutrition, it is equally important to address management practices when it comes to harvesting a reduced-lignin alfalfa crop. Some producers prefer additional cuttings to assist in pest and weed management. With the potential for reduced cuttings when using a reduced-lignin alfalfa, consider input from a local retailer on what can be used to manage insect and weed challenges.
Consult with an agronomist to make a plan for seeding and harvest to ensure you're getting the most out of the new crop and you've taken into consideration the increased harvest window and potential for reduced cuttings.
While it may take a few years to fully convert all of your acres to a reduced-lignin alfalfa, I recommend producers interested in the product should start with a couple of fields and go from there.
Talk with your local nutritionist or agronomist to learn more about how reduced-lignin alfalfa and low-lignin corn silage may benefit your dairy operation.
PHOTO: Building crop plans and rations with reduced-lignin alfalfa and low-lignin silage. Photo by Mike Dixon.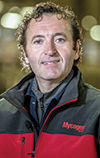 John Brouillette

Nutritionist
Mycogen Seeds