If you are reading this, I bet forages are a part of your life. They have been around a long time as well: Genesis 1:11 KJV says, "And God said, let the earth bring forth grass and the herb yielding seed."
There are a lot of forages as well; in fact, I would consider it the most important ecosystem in the world. It covers more than one-third of the world land area and 70% of the world agriculture area. Here in the U.S., it covers 38% of the land area and two-thirds of the agricultural area.
I am grateful to still have my father alive, and he tells me stories of having the team of horses taking breaks as they mowed hay back in the 1940s, and now I can sit in an air-conditioned tractor checking live weather updates and watching the monitor in the cab. Much of the time, I feel like I am now a spectator and not a participant making hay. My point is with the history and all the forages in this world, there is a large collective responsibility we have.
I am fortunate to be part of the American Forage and Grassland Council (AFGC) as its members continue to serve this industry. From its beginnings in 1944, this organization has worked to promote profitable production and sustainable utilization of quality forages and grasslands. AFGC is an international organization made up of 22 affiliate councils in the U.S. with around 2,500 members. Advancements in forages over the years have been tremendous. We improved on the principles of grazing and extending the grazing season that have been around for many years. We developed new and improved varieties of forages. There have been new innovations in equipment, new ways to harvest and store forages, and more demand for forages as the world population grows. Currently, AFGC has committees to develop forage trials to benefit the various needs of producers. In addition, a committee has been formed to develop a forage curriculum for youth to create more awareness and interest in forages. We also have a committee working to develop uniform standards for forage analysis around the country as there are many differences that can impact sellers and producers.
I am pleased to announce that registration is now open for the AFGC Annual Conference that will be held at the Hyatt Regency in Wichita, Kansas, Jan. 9-12, 2022. For those who prefer, there is a virtual option available Jan. 18-19, which will include on-demand content as well as live sessions. The workshop themes include new business opportunities for grassland managers, forage production in limited-water environments, winter feeding, regenerative grazing management, forage quality, soil health and carbon sequestration in forage and grazing lands, and grazing cover crops and crop residues. There will also be a trade show, poster presentations and much more. One very important thing that I personally think makes this a different conference than any other I have been involved with over the past 40 years is the great mix of public employees, scientists, industry representatives and producers. We also take pride in encouraging our youth to be involved through presentations and our annual Forage Bowl, which has teams of students from different colleges competing in a contest to test their knowledge of forages. Click here to register for the live or virtual event. Forages have been a large part of my life on the family farm and at my job, and one of my favorite times of the year is attending the AFGC Annual Conference to learn, fellowship and renew acquaintances. I hope to see you there.
PHOTO: Staff Photo.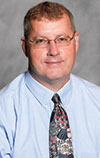 Chris Penrose

President
American Forage and Grassland Council