Back in May, we had an excellent first cutting of hay, and farmers in our area of southeast Ohio had well above average yields. Many of us commented that when we have good yields, we usually need it, so many were preparing for the likelihood of a drought.
Well, it is coming true – it is very dry in this part of the country now. Streams and springs are drying up, and we are rapidly running out of pastures for our livestock. How can we minimize the impact of dry weather on our forages and stretch out forage supplies?
First and foremost, avoid the temptation to overgraze your pastures. While you will save feeding hay in the short term, you will likely end up feeding more later. There are several factors that support this. First, when you graze too close, once you receive moisture to initiate new growth, it will have to be from the roots.
For a period of time, the plants will be depleting root reserves until there is enough leaf area to start rebuilding root reserves. Next, overgrazing will expose more ground, heating up and drying out the soil even more. Finally, when we do get more rain, especially if it is a hard rain and the pasture has a slope to it, there will be less runoff and more will soak into the ground if there is more cover over the soil.
If you have prolonged dry weather and hay becomes short, are there any options to stretch out your hay supplies? Depending on what part of the country you are in, can you still plant oats, wheat or rye to graze later on? Are brassicas like turnips an option? In Ohio, we have had yields of 5 tons per acre in 90 days planting turnips in late July and early August.
Another option may be to stockpile cool-season grasses once it starts raining again. In my area of Ohio, we typically initiate stockpiling in August, but have started as late as October. The addition of 50 pounds of nitrogen has increased yields around a ton and improved crude protein content of the grasses.
Next, will there be any crop residues that can be grazed after harvest? One that is often overlooked is grazing corn residue. According to my co-worker Rory Lewandowski, between 14 and 16 pounds of corn residue dry matter is left in the field for every bushel of corn harvested.
University of Nebraska has done a lot of work with this, and typically, less than one-third is removed from the field from grazing. Another University of Nebraska study conducted from 2004 to 2009 found an average of 1 bushel per acre of grain was also available for grazing.
Other options to stretch feed supplies if forages become short are culling the lowest performing animals, early weaning calves, purchasing additional hay and substituting some hay for grain.
Finally, if there is access to water and your animals are accustomed to electric fence, are your neighbors' lands an option? Whether it is standing forages or crop residues, sometimes solutions are closer than you think. A couple years ago, a friend of mine was given access to some land just because the owners liked to see cattle in the field when they looked out the window.
A few hours of electric fence building and he had additional pasture. If there is pasture, hayfields or fields with crop residue in the area that you could utilize, maybe that is an option.
Even though it is dry here, many farmers have learned how to prepare. Some have stopped grazing pastures and are now feeding hay, avoiding the temptation to overgraze.
Some are applying urea to fields and are using urease inhibitors in case we do not get rain for another week or two, or they will wait until conditions improve. While I hope you get rain soon (if you need it), maybe some of these tips may help stretch your forage supply if needed.
PHOTO: While waiting for rain, there are several options for extending feed supplies. Photo by Paul Marchant.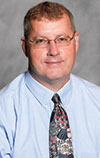 Chris Penrose

Associate Professor and Extension Educator
Ohio State University