Growing your business. What does that mean to you?
It's not uncommon to think that growing your business means you must sell more products or services or have more customers.
However, you achieve business growth through strategic decision-making that leads you to a set of business products and services that best position your business for sustained profitability.
While for some, growth (defined as improved profitability and sustainability) will still mean more sales or customers, it's possible that for others growth will mean less – lower sales, fewer product or service offerings, or fewer customers.
The mechanics of developing a marketing plan are straightforward and can be encompassed in the following points.
Know your business
Knowing your business inside and out is the first step to improving profitability and sustainability. Start with a SWOT analysis. SWOT stands for strengths, weaknesses, opportunities and threats. Strengths and weaknesses are internal to your business. For example, you may identify strong crop scouting as a strength but customer service as a weakness.
Opportunities and threats, on the other hand, are external to the business but will affect your operating abilities and the business environment. Examples of opportunities may include low interest rates or an unmet customer need. Threats could include new regulations you must adhere to or adverse weather.
Knowing your strengths and weaknesses in addition to the opportunities and threats that exist will provide focus to your decision-making, allowing you to play to your strengths and opportunities while working to improve weaknesses and minimize the impact of threats. Additionally, the ability to articulate your strengths and how your business can assist customers with their needs and opportunities will strengthen your marketing communications to current and potential customers.
Know your customers and competition
Knowing your customers and competition is achieved through market research. The market research you do will drive the decisions you make when deciding upon your marketing strategy. Who are your customers? What problems are they looking to solve? How does your product fill their needs or wants? To get at this information, you can simply talk with current and potential customers or implement a more formal research process such as a survey or focus groups.
Describe the different customers you identify through your research by grouping them into "personas." For instance, perhaps you identify one persona as "comprehensive" while another group as "a la carte." Breaking your customers into groups will allow you to better target your products and services and communications with them.
It's important to also research other similar businesses you will be competing with for your customers' business. How do you and your product compare? Look at aspects including price, convenience, location, timeliness, customer service and others. What comparative advantages can you highlight and use to your benefit?
Set goals and objectives
Establish marketing goals and objectives that will drive you toward achieving the business goals you set for improving business profitability and sustainability. Perhaps you want to achieve 40 percent customer retention during the coming year or increase sales by 30 percent over the next 12 months. Don't stretch yourself thin with too many marketing objectives. Decide on a few high-priority objectives, based on your SWOT analysis and research, allowing you to really focus on them.
Decide how best to satisfy customers profitably
Creating a profitable relationship with customers is accomplished through your marketing mix, a combination of the 4 P's – product, price, place and promotion. Keep your customer personas in mind as you make marketing mix decisions.
Product – You need to be able to identify, describe and effectively communicate product and service attributes and benefits to your customers. What do your customers value? For example, thinking of "comprehensive" and "a la carte" customer groups, would bundling products and services together appeal to the "comprehensive" group?


Price – At the very least, your price needs to cover your cost of production. Beyond that, price can be used to influence customers' perception of your business as well as to achieve the specific marketing objectives you have set for yourself.


Place – Where and when your customers can get your product or access your services. Will customers have to come to you, or will you come to them? What is the availability for your products or services?


Promotion – How will you communicate, interact and engage with both your customers (individually and as groups) and non-customers? Promotion is so much more than traditional advertising, and it extends beyond the sale of your product, as in customer service. A social media presence, event sponsorship or speaking invitation are all examples of promotional activities.
Avoid pitfalls
The following pitfalls can hinder your efforts to improve business profitability and sustainability. While building your marketing plan, ask yourself regularly whether you're falling victim to any of these.
Making assumptions about what customers want. When you make assumptions about what your customers want, you not only convey that you don't value them, but you also miss out on hearing their thoughts that may translate into new products, services, improved and profitable relationships.


Ignoring the competition. When you ignore the competition, you miss the ability to identify and find your niche and differentiate yourself from them. Customers need and want to know how your business is different from others beyond price.


Competing only on price. While price is certainly a factor for customers, so are other factors such as quality and service.


Failing to innovate. Failure to innovate opens the door to your competition to identify an opportunity to fulfill an unmet customer need.


Failing to measure the effectiveness of your plan. If you don't measure your marketing activities, you're unable to determine whether objectives are being met. If objectives are being achieved, then you can continue to build on those successes. However, if you're falling short of achieving objectives, you need to know where to make changes – something you can't do if you haven't been collecting and analyzing information.
Developing your marketing plan for business sustainability provides you with the opportunity to thoughtfully consider numerous questions: who your customers are, how your business fits into the greater business landscape and how you will position your business and products. It will build from your strengths, matching them with customer needs in a profitable manner. A marketing plan that puts the customer at the center should lead to a profitable and sustainable business.
ILLUSTRATION: Illustration by Kristen Phillips.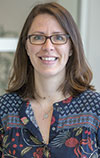 Sarah Cornelisse

Sr. Extension Associate
Dept. of Agricultural Economics, Sociology and Education
Penn State University