Economics for the new decade – what can we expect? Which way is the wind blowing?
Dr. David Kohl, professor emeritus with agricultural and applied economics at Virginia Tech, presented a PDPW webinar and said we'll see more change in the next decade ahead than we've seen in the last 70 years.
That's a little mind-blowing. We've seen a lot of change in the last 70 years.
Kohl said there are three major forces driving change: technology (including biotechnology and big data), consumers (both local and global, with consumer preferences being pushed by social media) and management. Although agriculture has historically cycled through tough times, the current elongated downturn is affecting average and below-average business managers. Kohl said this management factor will be the differentiator. A weak area could exist in financial management or marketing management, or some other area of the business, but any weak area during this time of rapid change over the next decade can certainly become the fatal Achilles heel.
Economic and financial volatility will mark the next decade as well, some of which we've seen already in the past few years. Proactive managers will have an advantage over reactive managers, Kohl said. Proactive managers don't wait for the "home run" but will take "base hit" opportunities in the marketplace to help stabilize finances. Reactive managers may end up using a lot of land equity while waiting for the next home run. While many dairy producers are "alpha" personalities, Kohl noted, it will be hard for them to settle for base hits instead of home runs.
It's time for farmers and ranchers to assess their business IQ with an honest look at sizing up management potential, which will be critical to success. Financial lenders do this routinely; they assess the business acumen of farmers and ranchers to help determine viability of the operation and repayment prospects. It's time, Kohl said, farmers and ranchers do the same thing, and identify any weak areas that need shoring up or professional services and advice.
Looking toward the new decade and the rapid transitions expected, production ag needs to make sure they can shift with the new trends and expectations. Some of the shifts that will likely have to happen include capital acquisition, human assets and labor fluctuations, and shifting business cultures. More and more farms across the country are using different things to try and move the needle on profit margins – some by trying small plots of new seed crops, some by trying more cover crops for livestock feed and some by trying new rotations and inputs. One of the bigger questions of this new decade will be: Can you shift?
Kohl described several possible economic disrupters, including:
Decoupling – Ag is going to be the industry that is on the forefront of populism, where countries take care of themselves and become more self-sufficient.


Indistractable – Technology can be a distractor. Take, for example, the classroom that invites a guest lecturer, and one-third of the students play on their phones and are not engaged in the lecture.


Technology – Removing human interface can create a myriad of problems if technology is used to replace human interaction. While technology is advancement, it requires management.


Consumers of the future – With a history of lack of transparency in the agricultural marketplace, agriculture is now paying the price for this with consumer distrust. In addition, customers of today want customization and personalization – 75% of what people buy is an experience.


Weather changes – Weather extremes are the new norm, not only here but in other parts of the world, which affects status quo and productivity.


Flexitarian – Consumers used to be divided into two camps: vegans and carnivores. The line is graying somewhat and is becoming more flexible with the "impossible burger." No one yet knows how much of the market the new products will garner and what that impact might be.


Texafornia – Watch California and Texas over the next 10 to 12 months, Kohl advised. California has the fifth-largest economy in the world and is more socialistic in philosophy. Texas is 10th and is moving toward a more capitalist philosophy. Kohl says their economies and politics bear watching.
Other elements that come into play include a rapidly consolidating dairy industry, capital sources outside agriculture and marketplace dynamics, resulting in accelerating scale size. In turn, political, social and consumer activism tend to attack "bigness" in any industry. So this may create an obstacle for agriculture.
In this past decade, and possible future decade, of low margins, producers will have to focus on these changes as opportunities – whether the change is in climate and weather, managing expectations and customer demands, or focusing on fiduciary fundamentals.
Historically, farm real estate has been the "last line of defense" in challenging economies. However, equity often leads to complacent management. Typically, 83% of U.S. farm balance sheet assets in land has been the bridge over economic troubled waters but, in the past several years, ag loans have been refinanced again and again, and many producers are drowning in debt service. In return, there will be less lender appetite for refinances and restructures. Even large ag equipment manufacturers are doing more leasing – a classic sign, Kohl said, of the late part of the downturn in the economic cycle.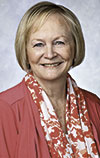 Lynn Jaynes

Editor
Progressive Forage