Cori Wittman is the daughter of Dick Wittman, owner of a 20,000-acre dryland crop, range cattle and timber operation in northern Idaho and private business management consultant (Wittman Consulting).
He specializes in financial management, developing management systems and solutions for business succession planning and conflict resolution. Anyone who became general manager of his operation after him would certainly be held to a tough standard – perhaps tougher than most – both from the family aspect and business management approach. Cori, the youngest of Dick's five children, fills that role.
Cori is a graduate of University of Idaho and holds a Master of Agribusiness degree from Kansas State University. Cori spent six years working in the agricultural policy arena of Washington, D.C. in various roles: managing international biotechnology education programs for the U.S. Grains Council, director of regulatory relations for the American Farm Bureau Federation and as a senatorial legislative assistant advising on agriculture, trade and transportation through the passage of the 2008 Farm Bill.
In 2010, she moved overseas to direct Breakthrough Thailand, a trafficking prevention and youth development non-profit program in rural Thailand.
In 2015, Cori returned to the family farm managing the operation's human resources, finance and marketing functions. In 2017, Cori became the general manager. I caught up with Cori this past summer to ask about her management style.
Your dad puts a lot of stock in you – says you can have the 'hard conversations' so many managers avoid. What helped you develop that attribute?
WITTMAN: I started balancing the farm's checking accounts at about 9 years old. It certainly tested my math skills and, more importantly, my problem-solving skills when things didn't quite add up.
As the youngest of five kids, we also spent a lot of time being sent to our shared rooms, not to come out until we'd "worked things out." Fast-forward to adulthood, I suppose these early lessons and experiences stuck. I don't like difficult problems or conflict to be left unresolved any more than I like bank statements to go unreconciled.
Each of us, as managers, has eyes and ears on the health of the business, and we're all committed to doing what it takes to keep it healthy. Some of us are more highly tuned to the shape of our equipment fleet, for example, and some to the nuances of people and personalities. This type of diversity is what makes the team work.
What's the structure of your management team – are they grouped into teams?
Wittman: We have what you might consider "loose" teams; we have distinct cattle and agronomy teams, for example, but as a small business, we operate rather fluidly in practice.
Each manager has clearly defined management areas and responsibilities with reporting relationships clearly defined but, within that structure, we end up moving between and among teams depending on the labor demands of the season.
What is your management style – so, for instance, when and how often do you meet? What does the follow-up look like – without micromanaging?
Wittman: The entire farm crew meets every Monday morning for a stand-up coordinating meeting. This allows everyone on the team to get the big picture for the week, understand where they fit in the picture and have some clearly defined deliverables.
Beyond that, we gather briefly and informally each morning as much for camaraderie as for coordination and follow-up. We also try to have a monthly manager meeting to review progress on strategic areas, personnel items, finances and other issues needing attention throughout the year.
Tell me how, for instance, marketing decisions are made – is that you working alone with a spreadsheet, a calculator and some figures, or does the team have input?
Wittman: I seek input from the team in formulating a marketing plan. I lean heavily on information from our agronomy manager regarding production and quality projections, for example, but ultimately the execution of the plan falls in my lap.
I try to gauge their appetite for risk in volatile market environments (or, in some cases, beg them to make the decision for me) and keep them informed of major decisions. I'm fortunate to have a team that doesn't micromanage one another, although there are times I wish they would micromanage my tough decisions more.
What part of management is a struggle for you?
Wittman: I have a great deal of respect for my partners and have always looked up to them for their knowledge and experience. As the youngest of five and the runt of the family, I suppose you could say I'm plagued with "youngest" syndrome – by default, I assume others are wiser and more knowledgeable.
This can be a gift and a curse in management; it means I'm disinclined to be bossy, but it also means I find it hard to be the boss.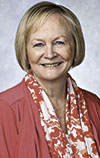 Lynn Jaynes

Editor
Progressive Dairyman