When Tryg Koch and his partner established Heritage Custom Farming in 2006, they had no land of their own and worked through their first season with nothing but a borrowed tractor.
Today, Koch and his current partner, Lee Buller, farm almost 2,500 acres, own a full line of farm equipment and not only continue their custom farming services but grow and sell hay to the competitive Montana horse hay market.
Rough start
"I started it with a different business partner, didn't even own a tractor or a piece of dirt. It was all just an idea," Koch says. "My dad owned 10 acres, and my original partner's dad had a farm, so we borrowed tractors the first year, and it started out as strictly custom reseeding new pastures, tearing out old hayfields and seeding them for new guys. And then when Lee became my partner, we started buying some tractors, and then we got into doing custom hay."
They didn't start selling hay until their operation had been running for about three years. After the first expectedly rough few years, their business eventually took off, evolving into what they have today. "We realized we could make a little bit more money by selling the hay ourselves," he says.
"We have a full line of machinery now. We can handle a 500-acre field or a 2-acre field. We have all sizes of equipment that can handle pretty much everything."
Koch says that besides himself and his partner, there is one other full-time employee and three or four part-timers who chip in during the busy summer season. "There are about seven of us going pretty much all the time, at least until harvest is about done."
Koch says that other than about 60 acres between himself and his partner's properties, 100 percent of the ground they farm is leased. "We have a lot of small fields, and we deal with about 60 different landlords, so we have tracts of ground as big as 400 acres and as small as 5, and we're spread out over about 30 miles," Koch says.
According to Koch, they put up anywhere from 1,200 to 1,500 tons of hay a year and aim to have roughly half of it sold before hay season even starts. "It's really nice to be in that position, and then with the rest, you can sell as you go."
Koch says they produce 18,000 to 25,000 small square bales for the horse hay market. He says they sell about 20 percent of their hay right off the field. The customers come straight out to the field and take a load as soon as it's baled. Others buy everything they need all at once and come pick up a little at a time as they need it.
Pests
Growing hay in Montana is not without challenges. Koch says they get a lot of trouble from wildlife, especially deer and elk during the winter months. He says there can be anywhere from 40 to 60 head of deer at the haystacks at night all winter long.
"This year, not including little square bales, we figure they ate 14 round bales through the winter, and I don't know how many little square bales they probably ate – a couple of tons, I imagine," Koch says. "There are people who have a lot bigger problems than we do, but they're still here and still kind of a nuisance. And they don't eat your moldy hay; they always eat your best stuff."
Koch says they also struggle with a severe pocket gopher problem. "They're probably the biggest nuisance we deal with," he says. "Those pocket gophers, and moles and voles, they're just hard to deal with. They ruin a hayfield faster than anything."
The gophers dig tunnels and make the fields uneven, which damages the quality of the hay and makes it difficult to harvest. "They make the fields really rough, and pretty soon they just get rough enough, and your hay gets full of dirt, and you can't do anything with it, and you just have to tear it out."
Koch says they try trapping the rodents, and others in the area use poisoned bait or Rodenator Pest Control Systems, but the best solution is usually to tear out the fields and start over again.
To combat the tremendous gopher problem, Koch says they plant a high population of seed and stay fairly aggressive with fertilizer. "We used to rotate every six to seven years, but we have found that doing a really high seeding rate and starting with a really high population of alfalfa and grass plants in the field, and then keeping up on the fertility, works better."
Koch says the thick stand helps deter gopher activity for at least a few years and doesn't damage yield. "We're tearing out a field this year that will be on its ninth year, and we've gotten two to three cuts on it for the last nine years.
It's under pivot, and its production is still 5-and-a-half tons to the acre, which is still nothing to be shy about, but now the gophers are getting so bad that it's time to tear it out." They replace their hay with a two- to three-year rotation of a cereal like spring or winter wheat, mustard or canola.
Storage
Koch says they put down a 2- to 3-inch layer of mulch before stacking hay, whether they're storing it in an outdoor stack or a hayshed. They use straw, old hay or anything else that's handy for the bottom layer. "All that other hay laying there soaks up any moisture from the bottom," he says. "We won't end up with our bottom bales being that bad."
Koch says they tarp their stacks clear to the ground and stack their hay in a pyramid formation to help with runoff. "If the stack is fully outside, the thing is covered on all sides," he says. This not only prevents water spoilage problems but also keeps the sun from leaching out the color of the hay.
"Just tarping the top doesn't really do enough good," he says. "If you only use one where the tarp only comes halfway down the side, you end up with water runoff or the snow piles up alongside of them, and you end up with a lot of spoilage."
Koch uses bungee cords instead of baler twine to tie his tarps down. "What a bungee cord does is: It allows that tarp to stay tight. So if the wind blows, it'll stretch a little bit, but it'll always pull it back tight and keep it tight. Even with our little square-bale stacks, we have found that's the best way."
PHOTO 1: Koch uses a bale accumulator to keep his small square bales in groups of 10.
PHOTO 2: Koch stacks his hay in a pyramid shape to aid in water runoff. Photos provided by Tryg Koch.
PHOTO 3: Those pocket gophers, and moles and voles, they're just hard to deal with. They ruin a hayfield faster than anything. Photo licensed from Thinkstock.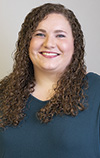 Carrie Veselka

Associate Editor
Progressive Dairyman