There is no adrenaline rush quite like trying to get a field harvested before a storm hits or the anticipation of waiting for a field to dry out so you can run an implement through.
While these times may be stressful, these are moments your neighbor understands better than anyone.
Community is important in every aspect of life, but agriculture is a tricky sector to form that community in. Your neighbors are also your competitors, and tension can arise from being in close quarters. You may also hesitate to try something new and venture out on your own because it isn't common practice in your area of the country. Community shouldn't be limited to those across the fence, and geography shouldn't dictate your ability to find a supportive peer group.
Thankfully, there are a few more modern practices to help you connect with producers who share similar goals.
Reach out
Jon Paul Driver created the Facebook group Hay Kings in 2017 out of necessity to find his community. The group now has more than 63,000 members around the globe.
"If you feel like you need a community around you, someone else does too," says Driver. "Same with if you need something – most likely someone else needs the same thing."
The group provides producers with an outlet to express fears and concerns about their own operation, as well as a peer group to offer advice and brainstorm solutions. Driver says his motivation behind starting the group came from a point of desperation for community. He recalls the moment the group hit 100 members and the excitement he felt knowing that 100 other people wanted to talk about hay as well.
Since the creation of the group, Driver stands by the importance of community and emphasizes that times of stress are when community becomes most important. The network of people Driver has built is meant to provide a stronger base for the industry as a whole and allow producers to access opportunities that may be out of the geographical setting.
This network isn't just a way to connect producers virtually. Making the introduction is just the first step into creating a strong network; the second step is to find a way to connect to those people in person.
"The highest form of social media is the ability to bring people together in person," Driver says.
Come together
More ways to take that first step are becoming available all the time. Recently, a trio of Iowa entrepreneurs with backgrounds in agriculture launched an app to connect producers with each other to solve challenges.
The app (called Farmmee) allows producers to quickly connect with other producers in times of need, like when their equipment breaks down and they need to lease a replacement or to hire a custom harvester to help finish harvest before the weather changes.
Creators of the app realized the need for the platform because too often neighbors in close proximity would be working on the same timeframe – making it tricky to find equipment and extra help on a short deadline. Farmmee connects producers with providers (the term used in the app to describe someone willing to do the job) who are willing to travel to their area and perform a variety of tasks, including planting corn, harvesting wheat, hauling cattle, baling hay and others.
Through the app, producers can search for what type of service they need done and will be connected to providers who service their zip code. Producers can then begin to connect with providers and work out the finer details of the contract outside of the app. Once a job is completed, the producer can then leave a rating of the provider for other users of the app to refer to in the future.
Molly Woodruff, CEO of Farmmee, says their end goal was to connect farmers with each other to help solve an issue everyone in the industry has dealt with before: finding labor.
"Our goal is to navigate the gap of new-generation farmers to connect them with other farmers," Woodruff says.
As a farmer herself, Woodruff understands the tight timelines producers are under, and she views the app to create a marketplace that is more dynamic and maximizes profits across the board by connecting with a strong network.
Next steps
Once the introductions have been made, it's important to follow a few basic steps to help strengthen and sustain your newfound community.
1. Speak and listen – The most inclusive communities allow every member the chance to share their thoughts.
2. Support unexpected connections – Thrive off the common passion shared by the group and embrace the unexpected similarities that may arise.
3. Set ground rules – Define expectations and limitation early on to avoid insecurity later.
4. Stay involved – Don't allow the group to lose connection before a solid relationship is established.
5. Seek new members – Strive to keep your community growing and strong in numbers.
While it may seem like old practice, now more than ever a community within the industry is needed, and the limitations on how far you can go to find that community are almost nonexistent.
"In this day and age, no one should feel isolated," Driver says. "The trick is finding the people out there."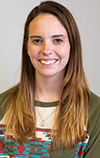 Joy Hendrix

Editor
Progressive Forage