When pasture production is limited (drought, temperatures, etc.), there are other opportunities to continue to provide forage for livestock. Some of those opportunities could include hay production, stockpiled forage or baleage.
The production of round-bale or square-bale hay is a common practice in the southeastern U.S.
The forage species you choose will have a large impact on the nutritive value of your hay. The species must be adapted for the soil type, rainfall and other environmental conditions of the location where you intend to produce hay. You will want a species with multiple-year yields, high nutritive value, winter hardiness, persistence and disease resistance.
When choosing a forage species for hay, you must also consider the nutrient requirements of the animals that will likely be a hay-feeding target as well as the cost to establish, maintain and continue hay production. A perennial forage species will not need to be re-established each year, although cool-season annual grasses (small grains, ryegrass) and some legumes are harvested for hay each spring.
Hay quality is affected by such factors as maturity at harvest, soil fertility, nutritional status of the plant, available moisture during the growing season, season of the year, ratio of leaves to stems, stem size, weed control, foreign matter, harvesting, weather at harvest and storage. Of all factors, the most important is stage of maturity or age of the plant at harvest.
As a plant matures toward heading, flowering and seed formation, its growth pattern changes from producing digestible leaves to producing indigestible hard stems, and its ratio of digestible leaves to indigestible stems changes. This ratio determines the forage's nutritive content and digestibility. At each growth stage, the digestible part of the plant tissue decreases rapidly.
Hay should be analyzed to establish the nutritive value in the bales and to determine whether supplemental nutrition will be required during the feeding period.
Soil fertility is critical to forage production and nutritive value of hay. Therefore, a sound soil fertility program is critical for providing adequate nutrients for the growing plant. In a forage system, this involves more than just adding nitrogen, phosphorus and potassium. It also involves monitoring soil compaction, soil pH, nutrient applications and removal rates, and in some cases subsoil nutrient status. Soil testing is the most important tool in forage production.
Stockpiled forage
A different feeding approach during winter, other than hay, could be to use standing or stockpiled warm-season perennials (such as bermudagrass or bahiagrass). These forages are allowed to accumulate in the field for grazing during fall and early winter. Stockpiled bermudagrass can provide the required nutrition for dry, pregnant cows through January if the appropriate procedure is followed.
Producers should plan on providing approximately 45 to 60 days of grazing with dormant bermudagrass. In most instances, stockpiled bermudagrass should be used up by January. Once the stockpiled bermudagrass is completely grazed, shift to another winter feeding option (cool-season forages or hay).
Adequate moisture combined with the appropriate fertility program is required to produce the desired bermudagrass quantity and nutritive value. If fertilizer is not applied after cutting or grazing in August, producers may still take advantage of accumulated forage during the fall.
There will not be as much forage accumulated, and forage nutritive value will be lower. The forage, however, may still be utilized providing appropriate supplementation is provided. If adequate moisture is not received during September, October and November, little bermudagrass will be produced, and grazing initiation may be delayed.
Steps to stockpiling bermudagrass/bahiagrass include:
Graze pasture to a 2- to 3-inch stubble height or harvest the final cutting of hay in preparation for fertilization approximately eight weeks prior to the first anticipated frost.


Apply 60 to 75 pounds of nitrogen, phosphorus and potassium based on soil test recommendations.


Defer pastures from grazing and allow forage to accumulate until frost or forage is needed.


Initiate grazing in response to the need for hay supplementation.


When stockpiled forage is completely grazed, it will be time to start a traditional hay-feeding program or initiate grazing cool-season forages.


Be sure to provide free-choice mineral supplement to cattle and monitor body condition of the cattle.
Baleage or haylage
Baleage or haylage involves baling forage with 40 to 60 percent moisture content, then wrapping the bales in plastic to create an airtight environment. This reduces the weather risk producers commonly face while waiting for the forage to field-cure and harvest.
Harvesting the forage at higher moisture levels allows for the forage to more readily retain its nutritive value and digestibility compared to conventional hay. Aerobic (free- oxygen-requiring) bacteria consume the oxygen remaining inside the hay within a few hours. Under these conditions, anaerobic (non-free- oxygen-requiring) bacteria reduce the forage pH and preserve the forage in a "pickled" state.
The low pH inhibits mold and respiration losses that typically occur in high-moisture bales. Baleage does not, however, attain as low as the pH of silage, so it cannot be stored as long.
While baleage reduces leaf shatter loss and allows you to preserve high-moisture forage, it is typically fed on-farm because it cannot be moved easily. Bales can be wrapped individually or in a row (in-line wrapping). Bales that have been individually wrapped can be moved off-site for storage, but they must be moved carefully so as to not puncture the plastic.
Incorporating baleage into a beef cow-calf operation is not inexpensive, as there is a need to purchase a bale wrapper, which is nearly equivalent to the cost of a new round baler. Additionally, conventional round balers may not be able to handle the higher moisture content of harvested forage, which may require purchase of a round baler able to harvest forages at higher moisture levels.
As you plan for your forage needs, it is important to produce enough forage (hay, stockpiled forage, baleage, etc.) to meet your livestock's nutrient requirements during periods of limited pasture growth. Forages for harvest (hay or baleage) should be fertilized appropriately and should be harvested at the desired stage of maturity. Plan ahead, taking into account weather predictions, forage needs and available resources.
PHOTO 1: Cattle graze warm-season grasses in South Carolina. Photo by Cassidy Woolsey.
PHOTO 2: Soil conditioning is an essential part of maintaining these pastures in southern Idaho. Photo by Mike Dixon.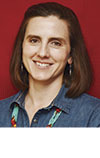 Vanessa Corriher-Olson

Associate Professor and Extension Forage Specialist
Texas A&M AgriLife Research and Extension Center