As another season of forage production draws near, manufacturers of hay production and handling equipment roll out the latest in technology and design for efficiency and productivity.
A number of factors drive the innovations: ease of operation, packaging forage for maximum quality, and efficiency for transportation, storage and feeding.
Windrower and mower innovations
Windrower and hay mower manufacturers are working to make operation easier and more efficient. A change that will please operators of disc mowers is the shift from blades that are bolted in place to blades that can be changed out with little or no tools.
One example is the Krone AM R disc mower blades that can be quickly replaced with a simple tool that comes with the machine.
Carolyn Lee, a rancher located near Baker, Idaho, says, "My husband and I have operated a custom haying business to help support the ranch for a number of years. We usually don't have a lot of extra help, so I run the windrower most of the time. It's nice to see it get easier to change the blades."
Another improvement in the design of the drive systems in the cutter decks of disc mowers is evident in the move to shear systems to protect the drive gears. When the mower disc hits an obstruction, a pin in the drive hub will shear to prevent damage to the drive system.
Lee says, "My husband and I lost a lot of production time due to breakdowns a few years ago when cutting for a rancher who didn't pick up baler twine when feeding cattle in the winter. The disc mower we were using at the time had a gear drive system of continuous gears with no shear system.
When one disc would wrap with baler twine and seize, it would break gears in the deck. We replaced a lot of gears that summer."
Baler innovations
Baler manufacturers are making advances to improve speed of operation, reduce maintenance cost, increase bale density and develop a system to classify different balers by production capabilities.
One example is the Comprima round baler line from Krone. The camless pick-up design has 58 percent fewer moving parts, equating to less wear and a 30 percent higher operation speed. The Novogrip belt and slat system uses a set of endless belts with horizontal metal slats connecting the belts – allowing the belts to turn in any forage condition.
Jody McRee, Krone manager of sales operations, says, "The Comprima round baler design offers significantly higher bale densities, regardless of condition, and provides unmatched efficiency and productivity."
Another advancement new to the world of forage baling this year is AGCO's Baler Classification System. Many producers have either purchased balers that did not perform to requirements of the crop or did not produce the desired final package. There are many different square balers on the market and up to this point, there has been no standard to compare them.
Rex Morton, a rancher near Lemhi, Idaho, says, "We have had some really good balers over the years and some that did not hold up to the work. One fall, we broke the gearbox in a nice little inline baler baling straw. I found out later that the failure was not the fault of the baler.
It was not designed to tolerate the kind of chamber pressure we were subjecting it to trying to make a heavy straw bale."
AGCO has introduced a classification system dividing square balers into eight classes determined by bale size and the pressure the plunger exerts on the forage within the bale chamber. This is designed to allow producers to more easily identify the baler best suited to their needs.
Plunger load (pressure) is used as the basis for this classification system because it is the most measureable and quantifiable factor contributing to the final density of the bale. Regardless of the end-user's business, bale dimension, density and weight are the determining factors of bale selection.
The maximum plunger pressure determines: the amount of forage in the bale; the final weight and mass of the bale; the ease and efficiency with which bales are handled, transported, stored and fed; the efficiency and productivity of the baling process; and tractor horsepower needed for maximum operating efficiency.
To determine the force the plunger exerts on the forage within the chamber, AGCO uses load sensors mounted on the plunger arms to measure compression of the arms. This value is represented in kilonewton (kN) force on the plunger face. One kilonewton equals 224.8 pounds of force. This value is displayed as the "load setting" on the in-cab monitor on applicable models.
From a February 2017 AGCO press release, the eight classes are broken down by AGCO as shown in Table 1.
Given that this method of classification uses a common and easily measured aspect of the baling process, AGCO believes other baler manufacturers will be able to use this same method for classifying each of their balers, although adoption of the classification system remains to be seen.
Hay-handling innovations
With the increased demand to move and store hay efficiently, more high-lift telehandlers are finding their way to farms and ranches. Manufacturers are working to improve the capabilities and safety features of these machines.
One example is Bobcat's new V519 telescopic tool carrier. If the operator removes their foot from the throttle control pedal, the machine comes to a stop. Also, if the engine idles at a stop, the machine automatically applies the park brake.
Today, more control is literally being placed in the hands of the operator as more function is now controlled through joysticks, rather than foot controls and levers. This allows for a more rapid response to the operator's commands – with less lag time while the operator has to reach for a lever or think about which direction to apply a foot pedal.
Auxiliary hydraulics are becoming more common on telehandlers, allowing operators to use these machines for a multitude of other purposes from operating a grapple fork to a post driver/auger, and many others.
The Bobcat V519 allows the operator to select the rate of hydraulic flow to the auxiliary implements to give the operator the power and control needed for each attachment and individual job.
Stephen Richardson, who ranches near Lemhi, Idaho, says, "We have begun moving hay with a telehandler. It's nice to see some of the new equipment coming out with the auxiliary hydraulics to accept multiple attachments. We recently set 12-foot wood posts in our stackyards to keep the elk out. The reach and lift on the telehandler is really nice for setting posts in awkward places."
To find more of what is new in hay production and handling technology in 2017, contact your local equipment dealership.
PHOTO 1: Bobcat V519 telescopic tool carrier with post-hole auger. Photo provided by Bobcat.
PHOTO 2: This shows the new design of the shear hub for the AM R disc mower using a roll pin that will break if the disc hits a solid object.
PHOTO 3: This photo demonstrates the QuikChange process, plus tool included with the machine.
PHOTO 4: This is the newly designed, camless EasyFlow pick-up system utilized on Comprima round balers in 2017. Photos by Kristine Walker.
PHOTO 5: AGCO square bale classifications.
PHOTO 6: AGCO square bale classifications.
PHOTO 7: Bobcat V519 telescopic tool carrier with grapple fork. Photo provided by Bobcat.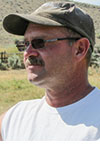 Michael J. Thomas

Freelance Writer, Stock Producer and Farm Mechanic
Based in Salmon, Idaho
EQUIPMENT INNOVATION – CAT 930M Ag Handler
This spring, I rode a CAT 930M Ag Handler on a dairy near Jerome, Idaho, as the controller loaded a TMR mixer. The ride was quieter than traveling on the freeway in my Chevy 2013 Impala. It had more bells and whistles, too.
With their expertise in the construction industry, this is Caterpillar's foray into the big ag market. The 4½-cubic-yard bucket is customized with larger throat opening and round sidebars to take a bigger bite of the pile and retain more material.
The electro-hydraulic control does not tilt the bucket but maintains a true parallel lift combined with High Lift linkage for digging efficiency to burn less fuel than traditional loaders that "chew" into the pile. And it has programmable linkage position kickouts for level tool, maximum lift and lower positions that work in combination with cylinder damping for a smooth ride.
Three variable displacement pumps are dedicated to specific functions – a powertrain pump, lifting/racking pump and a steering pump. Hydraulic speeds are 20 percent quicker, running 4,000 psi at 50 gallons per minute. This means time savings for "tight" dairy applications, such as running in the feed commodities bay.
The hydrostatic powertrain has changeable torque for dry pad operation versus wet corral use. Even air filters were repositioned at the back of the engine housing, instead of at the sides where tires kick up debris. Every 15 minutes, the cooling fans reverse to blow debris from the filters, and workers have a single access point for service lit with LED lights.
In essence, farm equipment is evolving into "machines that take care of themselves." This isn't a product endorsement.
I'm just telling you this machine had customized, coded starts profiled for operators, a system that would "tell on" operators regarding fuel burn, codes that tell the dealer what needs to be fixed, auto lube, a back-up light in addition to the "beep, beep, beep" reminders when maintenance is due and a buckle-up light, for crying out loud.
Equipment has come a long way and is innovating new efficiencies, comfort features and power maximizations every year. My Impala is looking pretty dated.
—Progressive Forage Editor Lynn Jaynes
PHOTO: CAT 930M Ag Handler. Photo by Lynn Jaynes