Remanufactured parts and components are a great way to save time and money without sacrificing quality. Remanufactured (or reman) parts aren't just parts that have been repaired; they are built to meet or exceed original OEM specifications and are usually backed by a warranty that, in some cases, is better than new warranty coverage.
One of the biggest advantages of remanufactured parts is cost. Remanufactured parts cost significantly less than new. Instead of having a machine out of service while waiting for a component to be rebuilt, you can buy a ready-to-install remanufactured component and have it installed immediately upon receipt.
Some of today's most common remanufactured parts include engines for both newer and legacy models, axles, clutches, transmissions, fuel pumps and fuel injectors, hydraulic pumps, cylinders and motors, starters, alternators and electrical components.
The return to "like-new" condition is what makes remanufactured products a greater value than those that are repaired or rebuilt, as there are distinct differences in the way in which each is handled.
When a part is repaired, it has only been repaired to its point of failure – so there is a possibility that whatever caused the malfunction might actually originate from a source further in the part's system where failure isn't immediately indicated. The problem with this approach is that the defect will usually cause the same failure at a later date.
With remanufacturing, however, the existing part (the core) is entirely disassembled and thoroughly inspected. The worn parts, such as gaskets and O-rings, are discarded and replaced with new. All of the components are meticulously cleaned, and those that need further work are machined and verified to OEM specifications. The components are then assembled using precise work instructions according to OEM specifications.
Finally, the assembled part is once again tested to ensure it meets OEM performance requirements. The remanufacturing process virtually eliminates all of the possible defects within a part and ensures you get a superior product. When you consider the vast difference between a repaired part and a remanufactured part, you can begin to appreciate why so many machine owners and service technicians prefer the reman option.
Another loose, but inaccurate, comparison to remanufacturing is the term "rebuilt." When a part is rebuilt, service technicians will bring all of the various new components together in the assembly of the part.
Take, for example, an engine rebuild: The success of a rebuild lies solely on the service technicians who generally have varying degrees of experience working with different engines. Even seasoned technicians can encounter challenges, especially with newer models with tighter tolerances and high-pressure common rail fuel injection.
It varies, but service technicians will commonly do one to two rebuilds of a particular engine in a year. When you compare this to remanufacturing, where hundreds or thousands of the same engine go through the rigorous remanufacturing process each year, it becomes very clear how process consistency and repeatability deliver a better product than a rebuild.
Remanufactured parts often carry better warranty protection, since it's easy to stand behind a part that has been through the rigors of remanufacturing.
When it comes to value, remanufactured parts have a lot to offer. Of course, there is the significant cost savings when compared to new – but when you take a holistic, big-picture view, you see how it lowers the cost of ownership for the life of that machine.
Remanufactured parts also ensure that owners of older, legacy machines still have access to parts when new parts may no longer be available. Plus, equipment owners may see an increased resale value of their machines due to the installation of remanufactured parts. Now, more than ever, people recognize the value of OEM remanufactured parts through their quality, warranty coverage and affordability.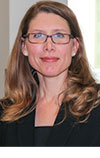 Jamie Sullivan

Reman Marketing Manager
New Holland Agriculture