Remember hauling cattle as a kid? I guess I am showing my age here, but I remember helping Dad build a portable, adjustable loading chute in our shop when I was barely in grade school. It was long and heavy (probably too heavy, but that was Dad's way).
It was the talk of the neighborhood – and frequently borrowed because you could load anything from a pickup truck to the biggest straight truck by pulling two pins (yes, the ol' cattle-racked straight truck). You just haven't lived until you have taken a load of cattle over a mountain 4 feet off the ground. My guess is more than a few of us remember those days (with or without the mountain.)
Enter the gooseneck trailer, which resulted in all that hard work from Dad and his portable chute ending up back in the scrap yard from whence its metal sprang. I don't know if any piece of equipment ever dominated the animal agriculture scene more quickly or completely, with good reason.
The gooseneck allowed cattle to be loaded and unloaded anywhere the trailer could be towed, and the ease and safety it brought the roadways of rural America cannot be quantified.
Trailers in general come in two forms: goosenecks and bumper pulls. To me, the differences between the two are pretty clear. If you need a trailer that is easily moved around and is needed only for light loads, a bumper pull is a fine choice. Bumper pulls connect to a tractor very quickly simply by placing a properly fitting ball through the hole in the drawbar. Goosenecks, in my opinion, are much more versatile.
Goosenecks can be pulled by a tractor using a ball attached to the tractor via the three-point hitch. This is a bit more trouble than a bumper pull, but that is where the advantages of a bumper pull stop. Hooked to a truck, gooseneck trailers center the weight carried by the hitch directly over (or closer to) the truck's rear axle.
This gives the driver much more control over the trailer, especially during stopping. Goosenecks can be turned more tightly, which is always an advantage on the farm. They also can be stretched to greater lengths than a bumper pull so they can carry greater loads per trip.
Like any piece of equipment, goosenecks and gooseneck ball hitches have undergone a great deal of improvement thanks to the applied technologies of America's ag engineers. Trailers have gotten lighter, stronger and easier to pull thanks to the addition of aerodynamic features.
Hitches have gone from farm shop-engineered plates welded to frames to precision-machined bolt-on units specific to a truck's make and model.
When installing a hitch in your truck, there are a few features to look for depending on your desires and use of your vehicle. Many ball hitches feature the ability to remove, flip or fold the ball to allow for a clean truck bed for hauling without the trailer.
All of these units require that a hole be cut or drilled through the truck bed, but most have templates included that make the job much easier and more accurate.
It is important to remember that your hitch is just like any other part of your vehicle and needs routine cleaning and maintenance. Road salt, old feed and general dirt and grime can render your hitch unworkable or even dangerously unsafe. Add the hitch to your routine cleaning, oiling and greasing schedules.
Same thing goes for the trailer. Most trailers get checked for only one thing … are the tires aired up before leaving? Trailers, especially those used less than daily, need to be inspected for lighting issues, tightness of the hitch and proper height adjustment, proper latching of rear doors and slam gates, rust and rough edges that could cut a cow or calf, and floor integrity. I mention floor integrity because a neighbor asked me to do so.
He recently injured two calves when the floor of his gooseneck failed during a short haul. The calves are recovering, but their value has certainly diminished.
That brings me to this important "mistakes to avoid" point. While I mentioned Dad over-engineered just about everything, his creations rarely failed, if ever. Strength is something that varies wildly among trailer designs and, generally speaking, strength comes with a price.
Some considerations for your trailer purchase include knowing what your vehicle's capabilities and your operational needs are. You can put one animal on a 30-foot trailer, but you cannot put a 30-footer's load on a 16-foot gooseneck. (I've seen it tried with less-than-pleasant results.)
Longer and larger trailers require a vehicle to have more stopping and steering capabilities. Notice that I said nothing about horsepower. Far too often, wrecks occur when a stout little truck tries to pull a trailer it cannot stop or control at road speeds.
My wife and I saw this firsthand going to the beach when a little truck towing a very large camper decided to use both lanes and the sides of the bridge to make it across an overpass. Luckily no one lost a life, but a brand new truck was totaled. (I was surprised how much "stuffing" a camper has when it splits in two.)
Longer and larger trailers should also have at least one cutting gate and escape door. Sooner or later, those will save someone a trip to the hospital. As before, if those features exist, they need to be maintained and the ability to work them from outside the trailer needs to be kept in working order.
Following the rules of the road in your state and using some common sense and a grease gun should have you in gooseneck heaven for years to come.
Andy Overbay holds a Ph.D. in ag education and has more than 40 years of hands-on dairy and farming experience.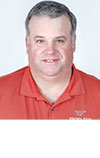 Andy Overbay

Extension Agent
Virginia Cooperative Extension