The Shelby Super Snake Mustang travels at 250 mph. That car, with an 850-horsepower engine, sits on Rod St. Clair's office showroom floor and is indicative of his very attitude toward life.
"Some people think I should slow up, but I'm only 72. I'm thinkin' about givin' it the gas," he says, grinning. "By now I've kinda got things rollin'. It takes about that long to figure out where you're supposed to be."
The road to his success wasn't a straightaway, by any means, but was full of rubber-burning twists and turns.
St. Clair grew up in California on a dairy in the Modesto area. He left the dairy to become a mechanic and carpet layer but, when his dad wanted help on the dairy, he was encouraged to come back home. However, after a year St. Clair realized, "The dairy didn't make the kind of money I was used to getting from the Bay Area of San Francisco doing custom work."
And in 1970, the California tax situation was "going from bad to worse," so he decided to buy the cows from his dad and move the dairy business to Nampa, Idaho.
Negotiating the first turns
Although the facilities he bought in Idaho were run down and St. Clair had to convert a horse barn to a dairy parlor, it had good farmland and a livable house. The trouble was, "Even though I grew up milking cows with dad, I didn't really know the dairy business. And I had never had to farm in California, either – we pastured cows and bought all the feedstuffs. So I had to learn to farm."
In the first five years, St. Clair didn't miss a milking. He couldn't; there wasn't anyone else to help. His wife, Virginia, fed the calves when she wasn't chasing two children. After about 10 years, they were getting along pretty well with the farm and dairy, and St. Clair decided to start bagging the feed in silage bags.
However, the machines available at the time (early '80s) were slow and cumbersome. St. Clair thought he could build one on his own. "I looked over the country, went back East and looked at homemade devices, and in one night I drew up the plans for a bagging machine. Then I went to town, bought a torch and a welder and taught myself how to use them."
His efforts produced two machines (a friend wanted one too), and St. Clair started bagging his own feed. Pretty soon other folks wanted one, so he filed for a patent but soon discovered the encumbrances of that process, requiring changes to his design and re-filing the patent application.
"I only had one year," he says, "because you have one year from the time you sell one until the time you get the patent, and I made that mark and received three U.S. and two Canadian patents on my device." He was the first to build a 12-foot-diameter self-propelled bagger (a 9-foot bagger was the largest at the time). He sold about 50 machines while still running the dairy and traveling all over the country to trade shows.
Penalty flag
The road miles, coupled with dairying, brought a buildup of stress, however, and St. Clair became ill, requiring a pit stop to refresh and refuel, which turned out to be a long pit stop of several years. As a result, he sold the dairy cows and rented out the facilities. When the renters failed a few years later, St. Clair got back into the Holstein heifer business.
In the meantime, he sold mixer-feeder wagons, built portable truck scales, forage boxes, baggers and other equipment. But with the health caution flag, something had to give, and that "something" was the bagger machine business.
Hairpin turn
Not one to sit still, St. Clair started buying farms in the late '80s, four farms in one year to be exact – two in Nevada and two in Idaho. "I wouldn't advise that," St. Clair says with a grin; it's not exactly the definition of "slow down." The result was a combined 13,000 tons of hay produced on these farms, and now St. Clair had to find buyers for all that hay.
For the next few decades, St. Clair continued to build portable truck scales and custom scales, and manage the hay business – alfalfa hay mostly. His crews cut 500 acres per day, raked 500 acres per day and baled 500 acres per day consistently, and "that closes the window of opportunity for rain damage down to near zero. We have a very consistent product," he says. His contacts in the California dairy community paid off and, with his proximity in Nevada, found ready markets for good hay.
In 2017, his hay contracts took all he could supply with two months still left in the year. "This year, by the time we're on the second cutting we'll be sold out for the whole year," St. Clair says, "because consistency is the answer. The dairies, we've found, don't want high-high-test hay, and they sure don't want the bottom end; they just want good, consistent hay of good quality, with bale weight the same, moisture rate the same."
Much of the quality consistency of St. Clair's hay he attributes to use of steamers; it's a point he often makes to potential dairy customers. His conversations to possible clients go something like this: "Mr. Dairyman, you need to look at those bale weights because they're so consistent. Because we're adding the steam, I'm told the moisture is at 14 percent … you don't want 9 percent bales, 8 percent or 7s.
You want them all the same. Because when you're mixing your ration, your feeder man puts in 2,000 pounds of hay – well 2,000 pounds of hay at 7 percent moisture is a different volume than 2,000 pounds at 13 percent moisture. In the dry hay, you have more bulk, so it dilutes the grain ration and all the other commodities you put in there and throws the feed off. The cows don't know; they're just eating it. No nutritionist can keep it balanced if the hay isn't consistent." St. Clair adds, "I can say that because I've been in the dairy business."
Dogleg turn
In a dogleg business turn, St. Clair last winter brought loads of hay from Idaho growers into his Nevada facilities and stored it for other growers until trucks from California came to pick them up.
"We weigh it, store it and reload the trucks licensed in California that come to buy. It helps producers find homes for hay, and it helps keep my guys busy in winter. I don't want to own the hay; I don't even want to haul it or mess with the trucks. I just want to receive it, break down the loads and reload it. I don't want to be the broker; I just want to be the depot."
Overdrive
And now at 72, St. Clair has shifted into overdrive. His latest venture has been to design and build the only truly portable legal scale for trade for semi trucks, marketed through his business, Western Forage Systems.
His patented 1230 Transformer scale is the only NTEP-certified (meaning legal for trade) portable scale that can go straight into the hay field, the silage field, the quarry, the gravel pit, for chemical fertilizer applicators or wherever else a certified weight is needed for semi trucks.
It's not a single-axle scale but a full truck scale with 30 feet of weighing deck. And it sets up in 10 minutes with capabilities for readouts on your phone, tablet or laptop. It's completely self-contained, hydraulic-powered and can be pulled with a 1-ton dual, semi or 10-wheeler. Hitch choices are gooseneck or regular truck hitch.
No checkered flag
St. Clair says none of his success would have been possible without his "pit crew" – his late wife, Virginia; his new bride, Carol; his son Grant who runs the Nevada haying crews with wife Mandy and daughter Emmy, daughters Julie and Maurine, who work in the office, and now grandchildren returning to the business, and three additional children who do not work at the business but lend additional support.
Scotland British Rally driver Colin McRae said, "Straight roads are for fast cars; turns are for fast drivers." If a straightaway represents speeds that are possible, and turns represent adversity, then a driver's ability to handle turns says a lot about their character and talent. St. Clair is a "fast driver" who has negotiated turns on several laps but isn't ready for the checkered flag or the victory lap. He's "thinkin' about givin' it the gas."
PHOTO 1: Rod St. Clair shows the wireless unit that communicates with the only NTEP-certified portable-scale hydraulics. Photo by Lynn Jaynes.
PHOTO 2: Rod, Grant, Grayson and Addison St. Clair make up the foundation of the haying crew at Jungo Ranches, north of Winnemucca, Nevada.
PHOTO 3: The steamer pulled in front of the baler opens the window of haying opportunity for producers in the arid West.
PHOTO 4: One-ton square bales are loaded for shipping to California dairies on St. Clair's Nevada operation. Photos by Ray Merritt.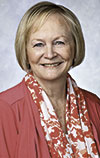 Lynn Jaynes

Editor
Progressive Dairyman