If an ounce of prevention is worth a pound of cure, then spending a little time on forage harvester maintenance this winter will pay off handsomely come next season. A well-tuned self-propelled harvester will result in fewer repairs, less downtime, better forage quality and fuel savings.
I always recommend that our customers spend the needed time inspecting, performing maintenance and replacing or repairing any worn parts. Of course, some of the basics include oil changes and addressing lubrication points. Changing gearbox oil will help ward off damaged seals and other problems.
When it comes to replacing parts, look at the manufacturer recommendations for all your options. For example, if your equipment is operated for excessively long periods or in tough conditions, you may want to think about other options for replacement parts.
Some equipment manufacturers offer a premium line of parts throughout the crop flow that feature extremely durable compounds for longer wear life.
Also check to see if your dealer offers additional support. Some manufacturers provide dealer customer clinics for owners to learn more about their harvesters and the necessary maintenance. This is a great resource that I always encourage customers to check into.
Regardless of the brand or type of harvester, always refer to and follow the guidelines in the manufacturer's owners manual. It really is the best resource for your machine. While I can't cover everything in this column, here are some areas that should be inspected to help you get your checklist started.
Headers
Headers are on the front line of your forage harvesting and take a lot of wear and tear. They can require some extra attention. Maintenance will depend not only on the brand but the type of header you're using. Pickup headers should be checked for damaged roller bearings in the pickup, and pickup teeth should be replaced if bent or missing.
On corn headers, I recommend inspecting the header slip clutches to make sure they haven't suffered any significant wear over the past season. It's also a good idea to inspect your knives, crop flow pieces and scrapers for wear or other damage and replace any that are worn.
Crop flow can be compromised from worn pieces. Also check the fingers on the front of the head; replace or straighten as this also affects crop flow and chop quality.
Chopper
In the harvester itself, carefully inspect the upper and lower feed rolls and teeth. Make sure they aren't excessively worn or damaged. Replace them if needed. The machine's smooth roll and scraper should also be inspected for wear; check the clearance between the two to ensure optimal performance.
Check the knives and shear bar as needed and recommended. Follow your maintenance manual for the correct knife sharpening procedure as some of these functions are automated.
Some equipment systems alert the operator when the drum knives should be sharpened – either on a schedule or based on throughput quantity. It's worth the time spent managing this step since sharp knives save fuel and allow for a more consistent chop quality.
The shear bar is the most heavily used part during harvesting and is one of the key components responsible for cutting quality. Wear will depend on the cutting conditions and crop. If the shear bar is rounded out, that will result in long pieces in the silage. Not only does a rounded shear bar cost you fuel and capacity, but it also makes the knives wear much faster.
Transition
In the transition area, the side plates can get worn, and it's recommended those be checked. Check the drum bottom for holes or excessive waviness. Also check the kernel processor plus other related components (drive belt, bearings, etc.). Are the rolls worn down? It may be time for a replacement.
Next, inspect the accelerator paddles for wear. The spout handles a lot of forage in a year, so make sure it is operating properly. It's also a good idea to check the discharge spout wear plates and replace them if needed.
Producing high-quality silage means being ready to cut when the time is right. Careful inspection and maintenance over the next few months will help you get a leg up on the busy harvest season that will be here before you know it.
Not only will you be ready when the crop is ready, but you will also minimize repairs and downtime during equipment operation.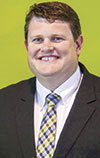 Matt Jaynes

Forage Harvester
Product Manager
CLAAS of America