Welders just do not think like the rest of the population does. When welders see a problem, they think, "Well, what can I build to fix that?" And then they come up with something.
It's not like you and me, who have to shuffle through a million off-the-shelf products to find something that "comes close." No – welders will find a way to make it – then make it better.
"I only know how to rodeo and work on equipment," says custom welder/fabricator Michael High (which explains a lot – anyone who rodeos is always trying to find a work shortcut to get out the door and on the road faster, just to wait for hours during slack for his or her shot at the jackpot – but we won't bring that up).
High started welding and fabricating on his own five years ago, while building up his own cow herd. Putting up bermudagrass hay in round bales is how 95% of producers in the Hampstead, Texas region (45 minutes northwest of Houston) harvest hay. But, hauling round bales from the field to the storage area was always a long, drawn-out chore.
"With one single bale [in front], it blocks being able to see the stack," High says. "So, I figured I'd make a spear that can spear two bales of hay together on the trailer, then spread them apart to make nice rows when you unload."
And then, you know how it goes – your own projects keep getting put on the back burner somewhere (there were rodeos to go to, after all). But finally, four years later, High came up with a way to spear two bales at once, improving driving vision while unloading two bales at a time and spreading them, laying them out in parallel rows simultaneously. He calls it a double-bale spear, but it's really more than that.
"I'd never seen one of these, but I figured it would work pretty well," High says.
The double-bale spear operates through the skid steer's hydraulic cylinders, through the skid steer's joystick controls so that when two bales are loaded onto a trailer, they're "nice and tight" for hauling. Then, they're speared again and are ready to be set on the ground (with space between rows). The hydraulics move the spears apart to separate the bales at that point. "It works great," High says. "It pays for itself with less fuel cost, less labor and less maintenance than by working with a single bale at a time. Plus, you can see exactly where you're going, so it's a safety factor too."
Made of ¼-inch wall square tubing, ½-inch thickness, High says the unit would sell for about $4,000 and is built to last many years. The machine will hook up to any skid steer on the market, and some tractors – if equipped with the correct quick-disconnect plate. It will adjust for smaller 4X4 bales or larger 5X6 bales.
High's father runs cattle, and High has built up a herd of 50 cows, as well, and this is where he tested his double-spear bale retriever.
"I posted this on Facebook and five to 10 people messaged me within the first day or so to talk about them. If somebody wants one, I think I'll build it for them," High says. "To be honest, I'm surprised every person who bales round bales doesn't have one of these. One thing about it is, whoever is stacking hay, I can put up hay with him side-by-side in half the time he can – maybe even less than half the time because I'll make fewer mistakes because I can see better." He also adds, "I loaded 187 bales in 45 minutes this past weekend."
That frees up a lot more time to go to rodeos.
PHOTOS: The double-bale spear has four forks, which can pick up three bales for loading a trailer. For unloading, if two bales are speared, the hydraulics can separate the bales to create parallel lines (separated by space) in a ground-storage formation. Photos by Michael High.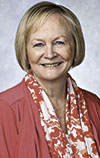 Lynn Jaynes

Editor
Progressive Forage