Since the time the last of my five kids left home, Father's Day Sunday has brought with it a slight amount of unnecessary angst. Not that it would alter my affection for any of my two daughters or three sons, but I always worry, just a little bit, one or all of them will neglect, for whatever reason, to contact me on Father's Day.
I'm not really interested in an hour-long conversation with each one of them, but my ego is big enough to perhaps sustain a minor bruise should I receive no correspondence from my offspring on a minor summer holiday.
I, of course, recognize the hypocrisy of this selfish sentiment. I think the closest thing to a Father's Day salutation my 81-year-old father got from me this year was a query as to whether or not he'd checked the pivot in the alfalfa field behind his house. At any rate, each of my kids passed the loyalty test, as I received a call or a text from every one of them before midnight.
Texts, by the way, are quite handy on such occasions. A text saves some time and enables you to maybe say some things that might prove to be a little tougher to verbalize in a phone call or face-to-face conversation.
The first Dad's Day message I got that day was from my oldest son. Seeming to forget some of the rough patches we went through, he expressed gratitude for some lessons he felt he learned. He thanked me for teaching him how to shoot free throws and the correct posture to maintain while showing a steer.
He apparently remembered the elation of finally winning the showmanship contest at the Cassia County Fair more than he remembered the overtime game versus Murtaugh High School, when the opposing coach had a standing order for his players to foul my son every time he touched the ball because he was shooting below 50 percent from the free-throw line. He thanked me for always being proud of my kids and, lastly, for somehow getting the message across to them their happiness and their choices didn't have to be dependent on the voices or opinions of anyone else.
Thankfully, my "wisdom," through the benefit of time's refining sandpaper, now seems more like sage advice than obtrusive, annoying harping from a flawed and overbearing parent.
Like any worthy endeavor in life, being a parent or raising a family is not always an easy job. As a matter of fact, it's rarely easy, and the rewards are often a long time in coming. Enthusiasm can fade pretty quickly when it runs up against reality. But that should not diminish the zeal for the job.
As for me, I can't think of many times when, in the moment, it felt as though I was doing the job the right way. It's easy to look in any direction to find someone who, in my estimation, is doing it better than I am. I am encouraged, however, from what Clementine Churchill supposedly told her beleaguered husband, Winston, in the early days of World War II.
To the man whom, in my mind, history proved to be the greatest leader of the 20th century, she said, "You are strong because you are imperfect; you are wise because you have doubts."
If there is any truth at all in that statement, take heart. I think many of us are probably in a better place than we envision ourselves. Thank Winston and thank the Lord.
PHOTO: Marchant boys at work. Photo by Paul Marchant.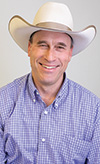 Paul Marchant

Writer
Progressive Cattleman