I spent a few days around Springfield, Missouri, this fall, and although I was a couple weeks too early to take in the spectacular scenery of the beautiful autumn colors the Ozarks annually offer up, I was somehow caught up in the spirit of the Shepherd of the Hills.
For all of its wild and violent history through a good share of the mid-19th century, rural Missouri – and particularly the Ozark country – exudes a unique and profound peacefulness.
This impression most likely is derived from the Ozarkians I have met. I've been on the receiving end of some sharp hillbilly wit, but it has always been delivered with a touch of self-deprecating humility.
It was in this reflective state of pondering I found myself as I took a short stroll down North Glenstone Avenue in Springfield one evening. I ventured out of my hotel room on a Sunday night before my flight toward home the following morning.
I had about a mile-long walk from my hotel to the Steak 'n Shake, just up the road. Steak 'n Shake, by the way, hasn't found its way out West, as far as I know, so whenever I venture South or East, I take the time to partake. I'm all about fine dining.
Anyway, although the road was busy with traffic, the sidewalk was devoid of pedestrians except for me. When I was about half a block from my destination a woman, probably in her late 20s or early 30s, came scurrying out of a hotel parking lot and onto the sidewalk, about 10 paces in front of me.
It was just a little uncomfortable because nobody else was in the vicinity, and my pace was a little faster than hers. I didn't want to come across as a creepy stalker dude, so I eventually passed by her. As I walked past, I seemed to notice an air of desperation around her.
But it was none of my concern, and I didn't think much of it until I noticed she walked into the restaurant about a minute after I arrived.
She approached the counter and asked for a cup of ice water – nothing else – and took a seat at the table next to where I had planted myself with my Wisconsin buttery steakburger. It was clear, then, she was distraught. She was fidgety, and her face was clouded with obvious worry. There she sat, consumed with some unknown but obvious anxiety.
To me, it was an odd and uncomfortable scene. There she was, juxtaposed against the jolly atmosphere presented by the loud and happy family with the ice cream-loving 2-year-old and the group of 10 or so 70-something senior citizens, enjoying each other's company and an after-church sundae. I felt I should say something to her.
But what would I say? What comfort could I, a complete stranger, offer? Besides that, I justified my non-action by the fact it may have been socially inappropriate for a stranger to approach a lone woman, uninvited. It was easier for me to cast my pity in silence and harshly judge everyone else in the vicinity for their apathy for one of their fellow human beings, who was in obvious need of some sort of comfort.
After about 20 minutes, the woman filled her cup a second time with water, picked up her purse and walked out the door, thus easing my disquietude to some degree.
For several days afterward, however, the scene preyed on my mind and my better self – not necessarily because I thought I made the wrong decision in my inaction in that instance but because I know that my apathy and inaction, or worse, my negative words or actions, have probably contributed to avoidable suffering in the past.
It has led to an epiphany, of sorts. I'm not really a compassionate humanitarian by any stretch of the imagination. But I know I'm not alone in my occasional and futile wish to miraculously change the world for the better. I've come to the realization that, although I may not have the ability to change the world, I can still change my world.
I can wash my own dishes once in a while. I can catch my neighbor's horses when they're on the road and put them back in the pasture. I can learn the names of kids at church. I can offer to shoe the horse for the friend who can't get the attention of his negligent farrier or offer to help him sort when he weans his calves.
I can smile and say hi to the guy who just went through a divorce. I can clean my boots before I walk in the house. I can tell my kids I'm proud of them, and I can kiss my wife goodbye as I head out to feed or gather cows or head to a bull sale.
I'm thankful to live in a culture where those good souls around me work to make their respective spheres a better place, and in that noble, yet mostly unnoticed endeavor, make the world a better place, too.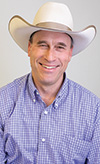 Paul Marchant

Writer
Progressive Forage