I was having a discussion with Audrey the other day. I consider her kind of a kindred spirit, since she's a farm girl turned journalist/editor who, like my wife, hails from a small-town dairy farm.
Everyone has a story, and I love life stories. So, naturally, I was goading Audrey into spilling the beans on her story. As it turns out, she was also a cross-country runner in high school. Although I never had any inclination toward the sport (on account of all the running involved), my wife helped coach cross-country for several years, and both of my daughters were fairly decent cross-country and distance runners in high school.
Naturally, I was happy to find another connection with Audrey. She's a bit on the humble side and, although she was keen to share details of her family and farm in Kansas, I had to pry to get her to elaborate on her personal athletic exploits. The more I dug, the better the story became.
Not only was she a runner, she was a state champion. For some reason, she felt it necessary to qualify – and by that, I mean undermine – her accomplishments by reminding me several times it was "just 1-A," the smallest school classification in the state. After a little more prying, I discovered she was good enough to make the team at Kansas State which, by the way, is a Division I school, the largest and most prestigious division in the NCAA.
I'm not necessarily a fan, but I kind of keep an eye on what happens at KSU because it's an ag school, and my brother-in-law ran track for the purple people-eaters several years back.
While I was more impressed with Audrey's humility than I was with her athletic prowess, I also took the opportunity to scold her for minimizing her accomplishments. She, of course, had the right to downplay her small-school accomplishments. But if you're a city dweller or an urbanite and you want to get me on the fight, start throwing out the "it's just 1-A" line, as if achievement of any sort at a small school or in a rural setting has any less meaning or importance than the chess club or football team at a big school.
In spite of my personal shortcomings, of which there are many, one of my common sermons to my kids while they were growing up, and since they've moved on, is that of the widow's mite.
It shouldn't matter if you're in the short-go at Cheyenne, the championship drive at Louisville or Denver, or if you're just riding through the sick pen at your uncle's feedyard outside of Scott City. You do the best you can with what you have – no matter your circumstance or resources. That's all you can do. There is nothing more. Any discussion outside of that is simply superfluous.
I recently read a quote attributed to someone I considered to be an exemplary leader, extraordinary in his compassion and leadership abilities. Speaking to an audience of thousands, he said: "Your obligation is as serious in your sphere of responsibility as is my obligation in my sphere."
The point being: Regardless of whether you're the king of the world or you live in a broom closet, your responsibilities are yours, and it behooves you to take care of what is in your realm. It can't be done by anybody else.
As noble and grand as the notion "failure is not an option" may be, I've discovered failure is always an option. That's not really an uplifting thought, but it is a reality. The only way to completely avoid failure is to completely avoid trying, which in itself is failure. It's just like owning cows. The only way to avoid having them die on you is to not have them in the first place.
While real life isn't as cut and dried as the sports world is, tales of athletic failures and triumphs offer abundant, easily related analogies and life lessons. After my hometown Oakley High School girls' basketball team lost its first game of the season in the district championship game (following a 22-0 start), the mood in the locker room was as dark as a moonless night.
Amid his post-game analysis and criticism of the game, the girls' coach, seemingly at random, threw out one question to the team. He asked, "How many teams that have lost a game or two have gone on to win a state championship?"
Without hesitating or waiting for an answer, he continued right on with his breakdown of the game. Nothing more needed to be said. The message had been appropriately delivered and received.
The end of that story has yet to be written, but whether or not that team, arguably the best in school history, wins the state championship or not is not the most important thing, even though it may seem like it to many folks who inhabit my tiny southern Idaho hometown.
The more validating results of the season's outcome may not be fully realized by the young women who are a part of that team for years to come. And then, if they truly take the lessons to heart, they may understand the value of each success and each failure. Even if it is "just 1-A."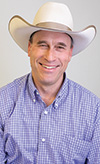 Paul Marchant

Writer
Progressive Cattleman