As I type the very words you're now reading, struggling to make another column deadline for an ever-patient editor, my mind is not entirely focused on the immediate task at hand.
I've got 300 calves needing to be processed and hauled to the yard, an unfinished greenhouse I'm trying to build for my wife before winter gets really serious, a pickup that won't run, a basketball game to coach tonight and a year-end county fair report to prepare for a not-so-patient board of county commissioners.
I've got about five more days of feed left in the fields before I have to start feeding cows, I haven't pulled the shoes off of half-a-dozen horses, the open cows found the unrepaired hole in the fence and are now mixed with the heifers, and I promised my nieces we'd pick out show calves and get them halter broke before the first of the year. My new job as county Farm Bureau president is baptizing me with six-foot flames, I committed to helping with a church wood-splitting service project next week, and I haven't seen my wife during daylight hours since we fell back an hour.
I'm tempted to play the "woe is me" card, but I have it on good authority that there's little wisdom in hollering any sort of whoa in a mudhole. So I'll duck my head, turn into the wind and try to carry on.
I sometimes have trouble pulling off any number of projects with anything that resembles grace and aplomb. The high-paying volunteer jobs keep piling up, and I keep taking them on and chipping away at them. There is a seldom-heeded school of thought at my house that espouses the idea of "just saying no." It's intended to dovetail with the idea of "anything worth doing is worth doing well." It could easily be argued that in taking on and accepting too much work in the form of volunteer or service work, too much is neglected, and nothing is really done as well as it should be. To that, all I can say is, "Touché."
Rural and ranch living lends itself to all sorts of ironic lunacy. Volunteer work and service to our friends, families and communities is perhaps at the front of the line. Some may suggest it's bred in us. It's who we are, and we can't help it. Such a platitude may sound kind of western, like something you'd see on a commercial during a late-night rebroadcasting of the National Finals Rodeo, but it's an idea I kind of take issue with.
I guess it may be partially true. A big share of cowboys and dirt farmers I admire have, no doubt, been instilled with an enduring spirit and a hardy work ethic by pioneer-stock parents and family. But those same people still have to deliberately make the decisions to put their self-interests aside and use their considerable efforts and talents to try to make things better for the people and places around them. To say it's just in their blood is to diminish the value of the grit in their hearts and the power of their self-made resolve.
I think mine is at best a mediocre example of service, but I have been surprised and learned a thing or five over the last couple of decades as I, mostly inadequately, try to live up to the unspoken cowboy code of service.
I've found out the more you look for praise and approval, the less rewarding the job turns out to be. The opposite, more often than not, turns out to be true.
I've discovered the more you forget about yourself, the greater your capacity becomes to effectively help someone else.
I've ascertained that simple math doesn't apply when it comes to doing the right thing. In the end, if your heart and intentions are sincere, somehow you usually get more out of it than you put into it. And the important stuff in life still somehow gets done, although it may not be how you planned it.
The other day, a friend asked me about our current high school girls' basketball season and team. My initial thought was to let him know how busy I was and how much time and effort it took for me to volunteer my time as an assistant to the real basketball minds of southwest Cassia County. But my wiser self stepped up and gave the answer that was really in my heart. At that moment, the prevailing thought in my mind was how grateful I was to be blessed with the opportunity to have my life enriched by a dozen-and-a-half good-hearted, hard-working farm girls and three other coaches whose efforts make mine seriously pale in comparison. My experience is no doubt reflected a thousandfold by the good hearts scattered through the rural heartland. Whatever the pay is, it's more than we deserve.
Paul Marchant is a cowboy and part-time freelance writer based in southern Idaho. Follow him on Twitter or email Paul Marchant.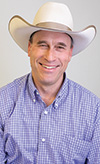 Paul

Marchant
Writer
Progressive Forage