If you're really "hip" and in-the-know, like I am, you've no doubt heard the song Fancy Like by country artist Walker Hayes. The gist of the popular and catchy little ditty is that a feller, probably not entirely unlike me, sings his own praises for his occasional high-class ways when he takes his lady out on the town to Applebee's.
My wife can probably empathize with the redneck aristocracy theme of the song. Not long ago, against the backdrop of the nonsensical pandemic-induced hysteria, we drove the 25 miles to town one Saturday night after chores to see if we could find us a bite to eat.
Now, the dining choices in Burley, Idaho, are limited under the best of circumstances. The pickings are even slimmer when most eating establishments are not even open for business. But, lucky for me, this particular day was the very day the local Denny's reopened their doors for customers. My sophistication level immediately jumped up a couple notches. This date night just moved up to the two-star level.
We walked in and discovered we pretty much had the place to ourselves. The only other patrons present were a few teenagers from the other side of the county who were passing through town on their way home from a rodeo. I knew several of them and their parents, so I did what I thought was the polite thing to do and engaged them in some harmless and witty banter. After we'd been seated, my wife, ever mindful of the degree of social awkwardness of a situation, mentioned that those poor kids probably wished we hadn't walked in. She figured they had no interest in conversing with an old guy. I respectfully and strongly disagreed. I was on my best behavior, and I thought the conversation was quite engaging.
As we perused the menu, my wife unnecessarily noted that we were both now eligible to order off of the senior menu, an observation that, from my perspective, could just as well have remained unspoken. Nevertheless, the box had been opened, and I was now faced with the actual manifestation of the intersection of two of my least charming attributes: pride and cheapness.
She correctly pointed out we could save over six bucks on a couple of the chicken fried steak dinner deals. I wasn't shy about my reticence. I certainly wasn't going to descend to such depths. The next thing she'd want me to do, I figured, would be to use one of those motorized riding shopping cart rascal contraptions at the grocery store. Order off the senior menu. How could she suggest such a thing?
Since the wait staff was obviously not swamped with demanding customers, the usual 10-minute interval between the sit down and "are you ready to order" was reduced to just a couple of minutes. With this new dilemma staring me in the face, I of course was not ready to order. I asked for a Dr Pepper – the hard stuff, none of that diet trash – and kicked the can a few yards down the road as I asked our waitress to come back in a few. My wife just rolled her eyes and excused herself to the restroom.
My wife returned to the table a minute or two ahead of the waitress. As the waitress reappeared, my wife motioned in my direction in exaggerated exasperation and resolutely declared, "I'll have the number 8 from the senior menu. I'm not sure what this idiot wants."
Curses! She'd ratted me out. It was the moment of reckoning. Which devil on my shoulder would win out? (Not surprisingly, there was no accompanying shoulder angel.) As the seconds painfully dragged by, I knew I had to make a decision. I didn't want to annoy the poor waitress more than I probably already had.
I swallowed my pride and allowed my cheapness to prevail. "OK," I bravely blurted out. "I'll have the same thing, but with fries instead of mashed potatoes."
Now the ball was in her court. How would she respond? A semi-generous tip hung in the balance as I awaited her reply. Surely, she'd help me out with a request to see some sort of identification to prove my age against my obviously youthful appearance. But alas, she left me stranded out on that island. There was no rescue from Father Time as she cheerfully replied with a simple, "OK. I'll get that right out to you folks."
I gave her a $6 tip.
Paul Marchant is a cowboy and part-time freelance writer based in southern Idaho. Follow him on Twitter, or email Paul Marchant.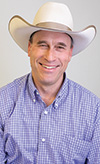 Paul Marchant

Writer
Progressive Forage