My wife, Andrea, and I have been married for 35 years now; we've been blessed to have a nice home and family. Like many couples, we have had our ups and downs, but fortunately the ups covered up the few downs nicely. Like many of you, 2020 has been an unusual year to say the least; however, our most challenging year by far was 1998. That was the year we both reinvented ourselves.
Up until 1998, my wife and I were happily and profitably milking cows on my home farm. Like any young couple, we did not have a lot, but we had each other. The dairy industry was changing though, and we had to evaluate how we were going to change to keep pace.
One thing we had learned over the years was that our dairy facilities had limitations; we just could not milk more than 80 cows without hampering productivity. Eighty cows seemed like a high mountain when my Dad and I laid the block for our milk house so we could go Grade A in 1970.
As I recall, we started out milking 27 cows in our early days. (Of course, I also recall that as Dad's mortar man, I was pretty good help as a five-year-old.) His patience with me had to have been great, but like most farm boys, his praise for a job well done was everything to me.
We soon grew to milking about 50 cows, and that was pretty much where we hovered for the next decade or so. When Andrea took over the dairy after we were married, we really started to roll. Cows stayed in the herd longer and milked much better. We were able to be more selective about who left the herd, so we became much more efficient.
Mom and Dad's business philosophy had left us in an excellent position. We did not owe any money. Dad always believed, "If you cannot keep up, you'll never catch up." Andrea's dad was a local bank officer in West Virginia and was also keenly aware of the perils of borrowing money.
Still, heading into the 1990s, we could see a shift in the dairy industry. For many years, we had operated under a non-vested base program that pretty much stabilized farm pay prices. By the 90s, market experts were accurately predicting we would see higher highs and lower lows in the coming years.
Personally, Andrea and I were also looking at what we were facing. Our facilities hadn't been updated since the early 80s, so it wasn't going to be long before the entire dairy was obsolete. Our four largest tractors were approaching 10,000 hours, and while some of our land was quite valuable as collateral, that also made it more expensive if we were to compensate off-farm heirs in the future.
One thing we were committed to doing was getting a long-time employee to retirement. Dean was more of an uncle to me than a hired hand. He began helping Dad when I was five years old, and Andrea and I both felt we owed him that consideration.
When Dean passed away suddenly in June 1998, it placed us at a crossroad. We had to decide to commit to dairying or change directions. What we really had to do was be honest with ourselves. We had decided over the past few years that we honestly:
Did not want to manage people or borrowed capital in the dairy business
Weren't getting any younger, and at 35, if we were going to make a change, it had to be sooner rather than later.
Knew how to do a day's work, and our labor off the farm was worth more than the milk we were making on the farm
In September 1998, we sold the herd. We cried big tears when the cows left; a big part of us left with them. We retained the land and continued to farm, although it is difficult for me to call what we do now farming, even though it is. My greatest challenge moving forward was trying to figure out why people wasted four or five hours each morning waiting until 9 a.m. to start.
Still, we were very fortunate. Andrea's reputation as a sharp, no-nonsense worker helped her land a job as a biology teacher at our local high school. I worked briefly in the lending industry but found my calling as an extension agent.
You may be considering your options in your farming operation. After all those years farming, and another 21 years as an extension agent, I have experienced several ag business situations and observed thousands more. One thing I can tell you is that as a farmer, reinventing yourself is perhaps the most challenging thing you'll ever do.
Looking back, there are some things you need to consider when reinventing yourself and your farming operation. First, don't compound poor decisions with a worse one. Especially if you have had financial difficulty, beware of "get-rich-quick" enterprises. A popular phrase that makes me cringe is "income potential." When I hear those words, I think of Jed Clampett of The Beverly Hillbillies. Like Jed, I have the "potential" of firing my rifle into one of our many hills and striking oil. Potential, yes, but reality, not so much.
Especially in new ventures, unless you have a contract and a set price, do not put the first plant in the ground or animal in the field. If it sounds too good to be true, it likely is.
I also think you need to be honest about your knowledge and skill set. Reinventing yourself is not unlike a person who is brand new to farming. We need to be sure to bring more to the table than our appetite. When starting a new venture, you need to honestly ask yourself a few things:
What do I really know about this new crop or outside venture?
Am I truly aware of the amount of time and labor this venture will require?
Do I have skills to add value to the venture, or am I simply supplying the labor?
If the rewards seem high or easy, how likely will it be that the market becomes oversaturated?
Am I able to lose everything I have invested and survive financially if things don't pan out?
Reinventing yourself can be liberating and enjoyable; however, do your homework. Whoever said "ignorance is bliss" wasn't farming. In production agriculture, what you don't know can ruin you and your family.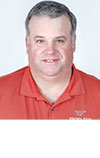 Andrew Overbay

Extension Agent
Virginia Cooperative Extension