County fairs are a late summer staple in most rural communities. There is a certain pride an entire community can partake in by watching a group of youth spend half an hour parading a project.
Those projects represent hundreds of hours of hard work and dedication around a ring, regardless of the color of ribbon they walk out with.
Sadly, because 2020 has been coined the year of cancellations, many county fairs didn't take place. The past few months have been filled with convincing arguments of what is too important to cancel and what has benefits that outweigh the risks. Event presenters have had to make the call to cancel an event they've spent many hours planning, figure out a way to make it virtual or decide if they believed it was safe to proceed as normal.
I equate this decision to the type of daily decision producers make. Do you bale the hay when you aren't sure if it is quite dry enough? Or do you leave it and call the bluff on the 60% chance of rain in the forecast? It's a tough decision and ideally one you wouldn't have to make. Either way, you'll use your best judgment and proceed with the option you are most comfortable with, which is exactly what event hosts have done for the past six months.
For me, that meant I didn't get the chance to go on the National Grazing Lands summer bus tour or a Wyoming forage field day, but I've been able to attend many more regional events that held online options and larger events like the Alltech ONE virtual conference.
Earlier this summer, we ran a poll on our website asking how many ag-related online events and trainings people had participated in since March 1. The four options we included were:
Zero
1-5
6-10
More than 10
Granted, this simple poll question should have included a fifth option that read: "I didn't participate in any but wouldn't have participated even if the events had proceeded as normal."
Maybe it was because I went through a period in the last few months where my webinar schedule was the only thing occupying my calendar, but I was surprised that 67% of 61 voters hadn't participated in any.
I know this number isn't encouraging to presenters who worked so hard to make their events virtual, but it is not a surprise that people prefer in-person communication. Any person who has ever had to video call a family member rather than seeing them in person can confirm this idea, but why this result when gaining knowledge from the comfort of your homes without having to travel seems so ideal?
My best guess is respect. It's rare to find someone who doesn't value respect in an interaction. Whether it's making eye contact, giving a speaker your undivided attention, or the fact that time spent together is an investment, and being present in the same room makes it obvious that two parties respect each other's time.
If it's a canceled county fair or having to make a big event virtual, let's try to understand that these decisions are extremely difficult. We now have a different way to show respect by taking part in these virtual events or making the most of the hand we are dealt. After all, you've been making tough calls your entire career and haven't folded yet.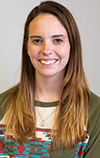 Joy Hendrix

Editor
Progressive Forage