Decisions.
Should I plant low-lignin alfalfa? Can I afford to hire another employee? Can I not afford to hire another employee? Should I buy the neighboring property? Can I justify a new rake? What about a hay barn? Is it time for me to sell out?
While Merriam's definition of farming is "the occupation or business of a person who farms," I personally think the following would be a more precise definition: "The occupation or business that resolves in premature graying of hair due to an astronomical amount of daily decisions to feed and clothe an unappreciative population."
Wouldn't you agree?
In an article featured in Business Insider, the author, Chris Weller, highlights seven TED talks that can change the way we make decisions. I'll share two with you.
'How to make hard choices'
Big decisions can be agonizingly difficult but, as philosopher Ruth Chang explained in her TED talk, that's because we think about them in the wrong way. The challenge with decisions is the way the alternatives relate. With an easy choice, one alternative is better than the other. Whereas with harder choices, one alternative is better in some ways, and the other is better in other ways.
Rather than viewing big decisions as a burden, Chang prefers we view them as a blessing or an opportunity to grow. Hard decisions are the very tool that chisels and refines our identity, she said.
'Grit: The power of passion and perseverance'
Did you know grit is the single biggest indicator of personal and professional success, even more than IQ? That's according to UPenn psychologist Angela Duckworth.
Referring to her experience as a seventh-grade math teacher, Duckworth observed some of her students with the highest IQ weren't doing so well in class while ones with a lower IQ were. This led her to pursue a graduate degree in psychology, where her study of "grit" began.
Duckworth defines grit as passion and perseverance. It's treating life as a marathon, not a sprint. In summary, she said, grit is looking at challenges as a starting point to success rather than a sign to throw in the towel.
Every production year in our industry brings its own set of challenges, and 2018 is shaping up to be no different. Our dairy friends and readers face gloomy outlooks and terminated contracts, agricultural trade is predicted to be on the list of casualties due to policy changes and political rhetoric, and drought has taken High Plains producers by storm.
So wherever 2018 takes you, view this year's decisions as a chance to grow and develop as a person instead of focusing entirely on the outcome. This will reduce some of the fear and anxieties of big decisions that lay ahead – at least so they say.
I think I just pulled out a gray hair.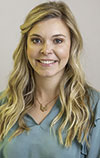 Cassidy Woolsey

Editor
Progressive Cattleman