At this point, I know everyone is tired of reading about a certain virus – and frankly, I am too. I promise to spare you from reading the phrase "unprecedented times" (on this page at least), but we have all spent quite a bit of time thinking about what comes next. What will our new normal look like?
Pre-pandemic standards are gone, and expectations have changed. The world is now aware of how delicate our supply chain is. The next time a grocery store aisle is fully stocked, people will remember a time that it wasn't. When the world gets to choose what scent their hand soap is, they will remember a time when they were just thankful to find any at all.
Paramedics refer to the time from when emergency services are called to help a patient in serious trauma to the time they are taken into the emergency room as "the golden hour." During this time, critical decisions are made that could save a patient's life. It's an obvious window of opportunity to change someone's life for the better.
Navigating the golden hour takes skill. There is no time for second opinions or to gather all the information possible to make the most informed decision. This time requires dedicated professionals relying on their instincts and prior training to make split-second decisions.
As a glass-half-full personality, I see this new normal as a golden hour for our country. It is a time that could be used to reset standards and expand expectations.
Those in agriculture know better than anyone that taking advantage of a window of opportunity can make or break the outcome. Almost everything in our industry revolves around taking advantage of golden hours, like baling hay in optimal humidity or planting before rain. The world is waiting to see what instincts will take over during this golden hour and who has the training to lead us through.
The new normal is coming. In time, that next chapter will begin, and the supply chain will be restored – but when it does, I hope we have navigated this golden hour correctly to make the new normal an improvement. Here are three things I hope make their way into our new normal:
1. Gratitude
The outpouring of genuine gratitude we've seen has been incredible. The acts of kindness and gratitude during this time have given a new life to the words "thank you."
2. Awareness
I hope people continue to do their best to be informed in every situation – knowing what is happening in the world around us and listening to recommendations from accredited scientists before forming opinions on divisive topics.
3. Commitment
A global crisis brings to light what truly matters to people; the causes we dedicate ourselves to protecting in the near future will show what people have learned to value most.
I hope you're thinking of some things positive that can come from this window of opportunity. I agree with Will Rogers when he said, "The farmer has to be an optimist, or he wouldn't still be a farmer." At the very least, I hope people continue to wash their hands.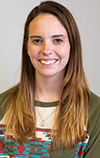 Joy Hendrix

Editor
Progressive Forage