What makes it a holiday to you? Is it the food or the fellowship with family and friends? Is it the historical significance of the day?
"Holidays" these days are a funny thing. Gone are the days that the word holidays refer to traditional put up the tree or smoke a turkey type of holidays, but instead the days that pass by to enjoy the little things in life. It's the National Donut Day and the International Pie Day (March 14) that bring just a little bit more enjoyment to the day. It's the above-and-beyond attention that products worthy of being celebrated receive on these days.
The list of these days is so numerous, I could spend the rest of this magazine listing off every day that could be considered a holiday – but don't worry, I'll spare us both that misery. There are a few upcoming holidays I think are worth mentioning.
I'll be the first to admit, I'm a bit jealous of the dairy folks during the month of June. In our office, the preparation for June Dairy Month starts months in advance and is full of inspiring stories of farmers being proud of their product and copious amounts of ice cream. (That's where the jealousy kicks in.)
Even the ranchers have the month of May dedicated to eating more beef and sharing cute pictures of calves during spring branding season. There may not be parades for either, and a mythical being doesn't leave presents for the kids in either of these celebrations, but there's something about the camaraderie they form within the industry that ignites a fire of advocacy for their trade.
The week of June 19-25 has been dedicated as the 2022 National Forage week. This year, I would like to see the same fire ignited within our industry. Take the time to share a bit more about your role in production than you normally would. Stop by your local coffee shop and inform the other farmers at breakfast that this is a week worth noting. Spend an extra 10 minutes each day bringing extra attention to your forage products that are worthy of the attention.
If you need ideas on how to celebrate, the American Forage and Grassland Council has some listed on their website that could make an impact on your community, or pick up some ideas from an unlikely source (read A figure of forage).
At the very least, grill a steak and have an ice cream cone. After all, forage is the foundation from which these come, and that alone is worth celebrating.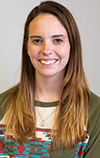 Joy Hendrix

Editor
Progressive Forage