By the time you read this, I'll once again be walking the aisles at NCBA's convention in Phoenix. I learned something last year at the convention in Nashville I think will prepare me for a better show this year and a better year beyond that.
Here's what I learned: I've been a blackberry plucker.
Elizabeth B. Browning wrote: "And every common bush afire with God; But only he who sees, takes off his shoes, The rest sit round it and pluck blackberries," (from her poem "Aurora Leigh"). It's just that … well, because of the thorns, scratches, heat, dirt and sweat sometimes, I just get too focused on the berries – especially at conferences and trade shows.
Here's the correlation to NCBA: At any show or convention, it's easy to focus on the mundane things or even the big things – the speakers, the food, the trade show trinkets, the business cards traded, the cab fare, the rental car whose windshield wipers are worthless, the airline flight, the lost luggage – all blackberry plucking.
But it's quite another to watch folks, listen to their speech, hear their stories and observe their mannerisms, discern the things that keep them up at night, follow their interests and ambitions, get them to tell you about "what's real." Last year, I had a chance to "see" a few things differently.
What I saw:
1. I saw a man and a woman (who were strangers) climb into the chairs on the boot-shining stand, with their chairs next to each other but facing opposite directions. Five minutes later, these two people were deep in conversation, and by the time their boots were polished, they were reluctant to leave the conversation.
I was so impressed I snapped a cellphone picture. Lesson: Friendships are really an easy thing to acquire in an industry with like-minded folks if we just take a few minutes to introduce ourselves or begin a conversation. And people need friendships – need to connect.
2. I sat by a gentleman on a bench in one of the aisles as we both rested our feet. He had come with his son, who was off visiting vendors and cattlemen. This gentleman fully expected to spend a couple hours on that bench watching people come and go, just happy to be present, happy to have a day with his son, happy to visit with any ol' lady who wanted to hear about his retirement days and the life that preceded them. Lesson: He wasn't plucking berries. He was happy to just be; I took "being" for granted.
3. I waited for a presentation in the lobby next to a gentleman with a friendly face, and I asked where he was from. Washington, I think he said. An Indian reservation surrounded his ranch on all sides (that I remember). His children were the minority race at school and suffered through all the struggles minorities endure. He brought them to NCBA for a family vacation. Lesson: It's not all about the cattle.
4. Last year, the keynote speaker was a survivor from a Mount Everest trek. He made one comment that stuck with me all year, "Mount Everest … now there's the measure of a man." He couldn't have been more wrong. I have no doubt the climb tested his physical abilities to the max and beyond.
I have no doubt he stood at death's door with half a foot over the threshold and had the scars and resulting infirmities to prove it. But in my estimation, a man isn't measured by the self-imposed rigors of mortality. Lesson: Even overpriced keynote speakers get it wrong.
I have the opportunity to go to a lot of places throughout the country in a year's time, and this much I know: The cattle and agricultural industries aren't made up of cattle and crops; they're made up of people. This year, I am resolved to spend less time plucking blackberries. If I don't find you at a show, please come find me.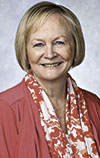 Lynn Jaynes

Editor
Progressive Dairyman