Remember the days when humor didn't include four-letter words or bodily functions? Those were the good old days. Red Skelton was a favorite comedian of the times. His humor was clean, lighthearted and not offensive. Here are some of his tongue-in-cheek quips for the perfect marriage:
Two times a week we go to a nice restaurant, have a little beverage, good food and companionship. She goes on Tuesdays; I go on Fridays.
I take my wife everywhere, but she keeps finding her way back.
I asked my wife where she wanted to go for our anniversary. She said, "Somewhere I haven't been in a long time!" So I suggested the kitchen.
We always hold hands. If I let go, she shops.
My wife told me the car wasn't running well because there was water in the carburetor. I asked where the car was. She told me, "In the lake."
She got a mud-pack, and looked great for two days. Then the mud fell off.
I married Miss Right. I just didn't know her first name was Always.
I haven't spoken to my wife in 18 months. I don't like to interrupt her.
The last fight was my fault though. My wife asked, "What's on the TV?" I said, "Dust!"
I realize these are all wife jokes. If I were funny myself, I'd come up with equivalent husband jokes, but I'm not. I don't want you to think I'm picking on women, however. I just bring it up because this month and next month we celebrate moms and dads, and husbands and wives and their contributions to relationships.
I don't know if you're a church goer or not, but on Mother's Day and Father's Day someone at our church usually gives a tribute to moms and dads. I used to wonder about that. It seemed to me church was a place set aside for worshiping deity, and not humanity, so I wondered about the appropriateness of that.
Then one day it dawned on me that our actions as good moms and dads, good husbands and wives are probably actions more Christlike than anything else we do. Good husbands and wives, moms and dads serve each other, serve kids and serve communities. And isn't that what Christ did?
I hope you'll excuse the personal nature of this editorial, but I cannot let another day go by without expressing thanks for the support of a good spouse. You know, some evenings I watch my husband dozing in the recliner (with the channel changer stuck on a stupid show) and get frustrated because 1) he's sleeping and I wish I could, but can't, and 2) he picked a really dumb show to leave the TV stuck on and I don't want to walk across the room to get the channel changer.
But then some days he comes through beautifully – loads the dishwasher, makes a bed, starts a load of laundry, shovels snow off the deck, starts my car to warm it up for me, warms up some supper, stops at the grocery store to pick up a list of things he doesn't believe we need but will get anyway because I asked. He's been a very caring, serving trooper.
I don't know what stage your relationships are in with moms and dads, husbands or wives, but don't let another day pass without thanking them for the good they did do and the support they are or have been. Don't let what they didn't do, or the times they failed, stop you.
Focus on the positive. Focus on the service. It's a big job keeping a farm or business running and a house stabilized, and it takes everybody's efforts.
And if you're wondering whether this was an appropriate editorial for a forage magazine because I didn't mention forage, then this last bit is just for you – alfalfa, silage, pasture, pH levels, mycotoxins, haying, balers, fescue, brome, bahiagrass, grazing, market report, genetically modified, sorghum, lignin, legume, windrow, irrigation, fertilization … feel better? Just one more service we provide. We're versatile like that.
You're welcome.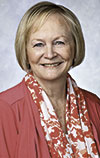 Lynn Jaynes

Editor
Progressive Forage Grower