I've heard many farmers, dairy producers and ranchers say they wished they could spend more time on a tractor or horse instead of riding around in a pickup or stuck in front of a computer.
They tell me they ventured into agriculture because they enjoyed the sunsets and sunrises, and working with soil and cattle, but it just isn't realistic today for managers to sit in a tractor when they have to keep crews running.
It's true that management can be very satisfying too, and with it we're able to achieve things we couldn't before, but the demands can take us away from the very things that brought us our most basic joy.
I relate to those folks who wish they had more field time – from an editor's standpoint. It seems I write less these days and do more directing. Some time ago, I realized a shift would need to occur to bring me back to my writing roots.
Then, two years ago, that shift occurred. Our publisher decided to launch a sister publication for all Idaho agriculture – Ag Proud. With Idaho as my home state, I was naturally drawn to the project. So for the last 18 months, I've been managing editor for both Ag Proud and Progressive Forage. I couldn't have been happier – or busier. It, however, became quite clear (quite early) that I couldn't continue to manage both magazines and have them be the quality I wanted them to be. I was also spending even less time writing (my field time equivalent) and more time managing.
I met Joy Hendrix at a trade show in Phoenix when she was still in college working on an ag communications degree. I had a feeling about Joy – somehow, I knew she'd be a good fit with our company culture and our readers, and she was driven. Her background on a New Mexico haying operation gave her depth. We invited her out for a summer internship, to let her get a taste for Idaho and our company, and when she graduated a year later, I told our publishers it would be a shame to let her get away. We offered her a job helping with the Progressive Forage and Progressive Dairy magazines, and my gut was right – Joy is a great fit.
And so, the time has come; it's time to hand over the reins of Progressive Forage to Joy. It's bittersweet. This will allow me to work full time on Ag Proud, and there's a lot of potential and possibility there. And while that's exciting and all, I get a little emotional looking over the fence at the Progressive Forage family of readers and contributors who have treated me so well.
The first event I attended when I came to Progressive Forage was in Kentucky at a warm-season grass workshop. Two minutes into that workshop, I thought, "Finally, I've found my people." And I've found this same element in every state I've visited while attending workshops, conferences, farm, dairy and ranch visits, trade shows and meetings – my people. You are gracious, knowledgeable, driven to improve, supportive, open and welcoming, and willing to share whatever you know and learn whatever you can. My people.
So, thank you. Thank you for writing to me, visiting with me, allowing me to visit your farms, dairies, ranches and businesses, and trusting me to write your stories. It's been such a privilege.
But don't be a stranger; this isn't goodbye. I'm still here – just working on a different magazine. I still want to hear from you, swap lies, commiserate and celebrate. You can always contact me at Lynn Jaynes … after all, you're my people.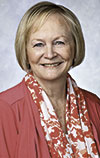 Lynn Jaynes

Editor
Progressive Forage