As any producer would tell you, sometimes the only way to get a job done is to pull on your boots and get to work.
Michael Horsch would agree. A candid farmer and shortline equipment manufacturer from Bavaria, Germany, he recently opened an educational farm in Down, Illinois, and he isn't afraid to call out impeding trends in the industry. One such trend is the reliance on gigabytes rather than the traditional "boots on the ground" approach.
Comparing benchmark data from a number of farms in Germany, Horsch made the distinction that the higher the level of digitalization on the farm, the lower the bottom line. He explained that adding technology, although helpful, simply could not replace age-old practices such as walking the fields and continually checking the drill when planting. In other words, there is no substitute for putting on those boots and getting out there.
What does this have to do with Christmas, you may ask? Well, I couldn't help but consider the similarities in his theory when compared with how I often approach the Christmas holiday.
Dubbed as the "busiest time of year" – and rightfully so – I have often found myself hustling from task to task, event to event. Neighbor gifts? Check. Cookies to church party? Check. Present for Mom and Dad? Check. And the list goes on. It's easy to fill the month with all the hoopla surrounding the season, but if we truly want to keep "Christ" in Christmas, we might have to pull on our boots and go to work.
Horsch explained walking through corn, for example, isn't fun when it's up to your shoulders. It's scratchy, it's muggy, and there are mosquitoes. But it's walking beyond that first 100 or 200 feet where you get your real information. The same can be said for what we do this holiday season.
Some of the most tender Christmas memories I have are when I stepped beyond those 200 feet and slowed down. There's a different feeling to Christmas when you spend time setting up a simple 3-foot tree with your grandma who has worsening dementia, or when you talk with your brother for the first time in six months who is away from home on a church service mission. It's feeding the cows with your dad, attending church in your hometown and rekindling old friendships.
It's sharing the first Christmas with your spouse; it's taking a treasured photo with a dear neighbor who you knew wouldn't be around much longer, and it's taking the opportunity to help your mom decorate for the holidays, even though you now have your own decorating to do.
In the scriptures, Christ instructs us to "come follow me." We know His ministry on earth was full of service and love. From healing the lepers to forgiving the woman caught in adultery, He was the perfect example of how we should live.
As we enter this Christmas holiday, I challenge you to join me in putting on our boots and seeing this precious time of the year as more than just a season for baking cookies and buying gifts. Let us look beyond our to-do lists and slow down enough to hear the Lord's call to truly serve and love one another. After all, that is where peace and joy are truly found.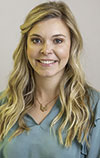 Cassidy Woolsey

Editor
Progressive Forage