And just like that – another holiday season is upon us. Another year of milestones has passed, and the next round of holiday traditions is just around the corner. The years seem to fly by, and the time between these traditions seem to be a few days closer together each year.
Now, please understand, I love this season and all that it includes, but I'll be the first to admit: To some degree, the demand of the activities surrounding the season can be exhausting. That weight can cause us to go through the motions of carrying out traditions without enjoying them.
Similarly, one moment you're marveling at the newly emerged corn – and the next the towers of the pivot are disappearing in the crop. Hay is cut and the field seems to be nothing but stubble, and in the blink of an eye it's a thick green rolling sea of plants again. Both instances are day-to-day miracles that can easily be overlooked.
Nothing has become more evident to me in the first nine months of my son's life than how quickly time passes and how important it is to acknowledge these miracles. As he starts to become more mobile and independent, all I can think of is how it feels like only yesterday he slept 18 hours a day. As he grows older, not only is he experiencing things for the first time, but each new discovery for him leads to me seeing things in a whole new light for the first time.
The way his face lights up when he hears music or the excitement he feels when anyone is clapping has given me entirely fresh eyes for how I see the world.
Those miracles happen daily, in front of our eyes, with little to no acknowledgment on our part. The biggest miracles can come in small packages, but without eyes prepared to see and believe, they are just fleeting moments in time that won't be seen until they are past.
This Christmas season, I encourage you to spend some time reflecting on the minute miracles in your own life. Whether it be a new child, or crops that continue to grow, savor the miracles and traditions you celebrate and recognize that having traditions to preserve is a miracle in itself.
My wish for you and your families this season can be perfectly summed up in this quote from Mary Davis: "May you be inspired by giving, changed by love, filled with peace and touched by miracles."
Glory to God for the opportunities that give us fresh eyes. Merry Christmas.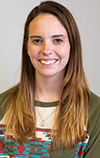 Joy Hendrix

Editor
Progressive Forage