With all the craziness 2020 has brought, it feels only appropriate to end the year with one of the most divisive events in our country: a presidential election.
Nothing quite precedes the holiday season like the never-ending political phone calls and endless opponent-shaming commercials.
I believe most people fit into two categories when it comes to politics: those who have their opinions and want to share them, and those who have their opinions but do everything in their power not to be forced into a conversation about them.
Typically, I'd fall under the second group, as I'm not one to partake in political debates. While I realize the importance of being informed on the issues and take my civic duty of voting very seriously, I tend to be discouraged quickly by the endless negative rhetoric that election season seems to exude and want to avoid the disconnect the conversations can lead to between others and myself.
So, fear not, my point is not about the election itself or to start a political debate. My focus is on the day after the election – and every day after. It's a bit ironic to me that there are only four months between July 4 and Nov. 4, but the tone each day carries are worlds apart.
Four months after celebrating the country we live in and its freedoms, the country is divided into those who believe their views prevailed and those who desired a different outcome.
This divisiveness can be discouraging for both sides, but I find hope in the connection between these two days. Both the celebration and fanfare of the Fourth of July and the dread and unknown on Nov. 4 are tied together by a passion for our country.
Whether the passion lies in the hope to create a better country for generations to come or to honor those who have worked in the past for the freedoms we have now, our country has no shortage of passionate people.
As much as we may try to turn a blind eye to them, it's this same passion that can make this season so unbearable. Although we may not all see eye to eye, and it's easier than ever to offend someone with a simple remark, it's reassuring to know this passion is derived from the idea that we live in a country which is not complacent in its endeavors and is far from lacking a population of passionate people who can envision a better tomorrow that is worth striving for today.
Our country was founded from this passion, and I take comfort in knowing the same goals to evolve and innovate that the founding fathers had are not only accepted today, but encouraged.
There will always be issues we disagree on, or something to be discouraged about, but take hope in where the passion stems from in the coming weeks, and extend grace to the candidates who have put forth the effort to turn their passion into power.
As Alexander Hamilton said, "I never expect to see a perfect work from an imperfect man."
If you feel the need to throw some hamburgers on the grill and light a sparkler or two to feel a sense of pride in our country in the next few weeks, please do so; then on Nov. 5, whether your chosen candidates prevailed or not, don't lose the passion that sets our country apart. Because just like every morning on the farm, there is still more work to be done.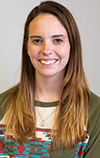 Joy Hendrix

Editor
Progressive Forage