Earlier this year, I spent a week in the Sunshine State visiting with ranchers and farmers and gawking at the landscape that was vastly different than my Idaho home. As I asked each one what was the biggest challenge to production agriculture in Florida, the answer was always the same: urban sprawl.
Unlike some of the other challenges associated with agriculture, urban sprawl can't be minimized with a pesticide or safeguarded with insurance. Instead, some producers are turning toward conservation easements or buying property in a neighboring state. But what stood out to me was one beef producer's approach to the problem: "If you can't get bigger, get better."
If you're a basketball fan, you may be familiar with the name Spud Webb. Now retired, Webb was one of the shortest players in NBA history at 5 feet 7 inches. His size initially kept him from making the NBA despite a strong college career at North Carolina State University in the early 1980s. But after a successful tryout with the Atlanta Hawks, Webb went on to play six seasons and later played for the Sacramento Kings, Minnesota Timberwolves and Orlando Magic.
One of the most memorable events of Webb's career was his slam dunk contest win at the NBA All-Star Game in Dallas. Webb, the shortest player to ever participate at the time, went up against participants who were a foot taller (including Dominique Wilkins, who had beaten Michael Jordan the year prior). A David in a sport full of Goliaths, he defied normality and paved the way for other so-called "height-challenged" NBA players.
I share this story because there are a lot of things outside of our control in agriculture. Milk contracts run dry, beef prices are unsteady, trade wars loom, tractors break down at peak season, and Mother Nature is unpredictable. Like Webb, we might not be able to control our height, or the markets and land values in our case, but we can control our management and hopefully improve our profitability.
"If you can't get bigger, get better."
In our special dairy issue this month, we look at the nutritional challenges and shortage of high-quality forage due to the significantly delayed planting in many areas of the country. We highlight a New York dairy who transitioned to organic production because they recognized their skills and assets were in their grazing base rather than standard conventional dairy methods. And we crunch the numbers on grazing heifers compared to confinement development.
These may be tough times in the dairy industry, and in agriculture in particular, but getting "bigger" doesn't always equate to more dollars in your pocket. Sometimes getting "better" in one area of management is all it takes to go from red to black.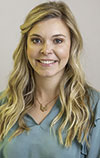 Cassidy Woolsey

Editor
Progressive Forage