Who doesn't love a good game night? Cards, board games or even a classic game of kickball are all ways to bring out the competitive nature in us all. Even if it's not your pastime of choice now, I'm sure everyone can think of some game they enjoyed participating in as a kid, especially if you were lucky enough to walk away victorious.
A lot can be learned from the classic games we all grew up playing. While the obvious lessons of learning to take turns, good sportsmanship and cooperation are important skills, I've learned the lessons can reach far beyond childhood.
It's no secret Monopoly can be a solid example of how proper investments can pay off in the long run and a good visualization of how smart spending can make you successful, but what about when the economy heads towards a recession and the investments aren't returning like they once were?
Jenga is great for improving hand-eye coordination and identifying the pressure points of a tower, but what about when poor weather makes it unsteady enough to knock it down?
Clue teaches the process of elimination and critical thinking, but what if you don't have all the information to begin?
Candy Land makes it easy to go down the road, but what if your equipment won't get you any farther and you don't have the cash on hand to replace it?
You can be a pro at Scrabble, but if you must use only legal terms and are playing against a bunch of lawyers, you may be scrambling yourself.
Sorry! may have been fun to seek revenge on your siblings, but saying "sorry" isn't sufficient when you are facing new environmental regulations.
Life showcased the importance of persevering to the end, but what if you didn't have a family in your car when you got there?
Battleship showed you the importance of having a strong fleet, but what if you were the one keeping the fleet afloat?
Uno taught you to keep your cards to yourself, but what if you are stuck with a card you can't play?
While the games of our childhood and their lessons have their place, they are far from the reality of life. The power to walk away from the game and leave the feelings of defeat behind don't transfer to real-life situations.
Your mental health is not a game. Do not stand by holding your breath watching the pile grow higher and teeter waiting for the moment it comes crashing down. You are not a failure by letting someone else know you are holding a weak hand.
Whether you feel like you've been dealt an unfair hand, or the stress of the industry is beginning to pile up, I encourage you to seek help. Mantal Health Resources includes a spread of resources available to you in your state. These issues aren't a pile you must face alone, and we are committed to helping your operation, despite whether you feel like you are winning or losing.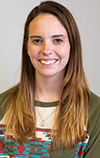 Joy Hendrix

Editor
Progressive Forage